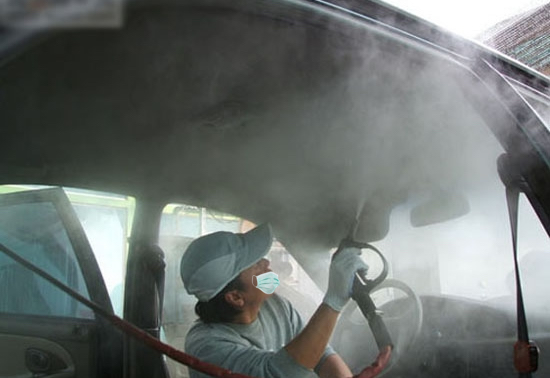 As an essential services provider supporting relief agencies, moving people, services and goods during this global health crisis, we remain open to help serve critical transportation infrastructure support, but have temporarily consolidated some of our operations for the safety of our customers and employees.
Monitoring
We are carefully monitoring the situation around the clock and following guidance from the World Health Organization and other health authorities. We will follow the guidance of the local health authorities, keeping our employees and customers top of mind with each and every decision.
Employee Wellbeing
Today – and every day – the safety and wellbeing of employees and customers is one of our top priorities. We continue to take proactive steps to ensure we are doing our part to support and protect our employees and our broader community, while recognizing our important role as an essential service provider.
For those working in our locations, we remain absolutely committed to providing them with a consistent and safe work environment during these unpredictable and challenging times. We are encouraging employees to follow health authority best practices like frequent hand washing and staying home if they are feeling ill.
We've also taken additional steps to ensure groups are practicing increased social distancing efforts while working, including limiting the number of employees at a location or within vehicles, avoiding large gatherings of employees, and encouraging employees to maintain distance from others whenever possible.
Vehicle Cleaning
We've always taken seriously the cleanliness of our locations and vehicles, and we know this is more important now than ever. We are implementing additional measures to clean and disinfect our locations and vehicles, in alignment with guidance from health authorities. This includes routine cleaning with a recommended disinfectant of all frequently touched surfaces at our locations, such as countertops, door handles, kiosks, workstations and bathrooms. We also have a very formal training process in place that instructs all employees about the proper cleaning of vehicles. Of particular focus, our procedures mandate a thorough cleaning and wiping of the interior with a recommended disinfectant. This includes the dashboard, instrument panel, steering column, wheel, accessory panel, center console, cup holders, compartments, seats, between console and seats, between doorjambs and seats, door and door pockets, among other areas. We are frequently reinforcing the importance of this process with our employees.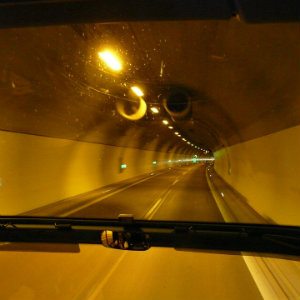 The Lincoln Tunnel connects Weehawken, New Jersey to Midtown Manhattan through the first triple-tube tunnel construction in the world! Plans for the tunnel were first introduced back in 1930, when the newly appointed Port Authority of New York and New Jersey proposed a twin-tube tunnel connection, later extended to include an extra tube. Chief engineer on the project was Othmar Ammann, the same man who took over for Clifford Holland on the first vehicular tunnel beneath the Hudson River. Working conditions on the Lincoln Tunnel were dangerous, claustrophobic and extremely tedious, but amazingly no workers were harmed during the construction process. Limited to one hour of a work a day, divided into half hour sections, workers avoided serious illness and injury, completing the tunneling process within five years.
The Three Tubes of the Lincoln Tunnel
Today the Lincoln Tunnel is a bustling transportation hub connecting millions of delivery vehicles and Manhattan car rentals to New Jersey everyday. But of course, this wasnt always the case. The first tube of the Lincoln Tunnel was opened to the public on December 22, 1937, costing just over $75 million. This singular tube was only large enough to allow one lane of traffic each way, causing more than its fair share of slow-ups and traffic jams. A second tube was constructed, and later opened to the public in 1945, freeing up many of the Manhattan car rental traffic jams. Traffic on this major trans-Hudson connection continued to escalate after the Second World War, causing the Port Authority to consider building a new twin-tube tunnel between Manhattan and Hoboken. Although a good idea in theory, this new project proved to be too costly and time consuming for the Port Authority, so a new plan was hatched to construct a third tube onto the Lincoln connection. This project was a huge undertaking for the Port Authority as it including the construction of two approach ramps and a peripheral Manhattan car rental parking area, costing close to $85 million. Completed in 1957, the Lincoln Tunnel became the first triple-tubed vehicular tunnel in the world, serving some 43,468,000 vehicles each year!
The Lincoln Tunnel Today
Today the Lincoln Tunnel is the busiest vehicular tunnel in the world, carrying some 120,000 vehicles each and everyday. The three-tubes of the Lincoln Tunnel help to connect midtown Manhattan with three different New Jersey expressways including the NJ 495 Freeway, the NJ 3 and the New Jersey Turnpike. There is a toll associated with the Lincoln Tunnel, consisting of a $6 cash fee when heading eastbound through the tunnel. During the busy weekday morning rush hour the Port Authority offers an exclusive bus lane, helping to clear up the other lanes for you and your Manhattan car rental.
Safety Tips for Using the Lincoln Tunnel
If youve never driven your Manhattan car rental through a vehicular tunnel the experience can be a little nerve-wracking. To ensure a safe and easy passage through the tunnel be sure to keep these safety tips in mind:
The speed limit inside the Lincoln tunnel and any other Port Authority run tunnel is 35 miles an hour, unless otherwise posted
Do not cross double solid lines inside the tunnel in your Manhattan car rental Crossing these lines is unsafe and illegal
Watch for traffic cones when approaching the Lincoln Tunnel entranceways. Bright Orange traffic cones are used to signal construction, rope of unsafe arrays and to create barriers between traffic. Moving one of these traffic cones is against the law, so please dont touch them!
In the case of an accident please stay inside your vehicle. Emergency response teams will assess the damage and instruct you on when and where to move your Manhattan car rental.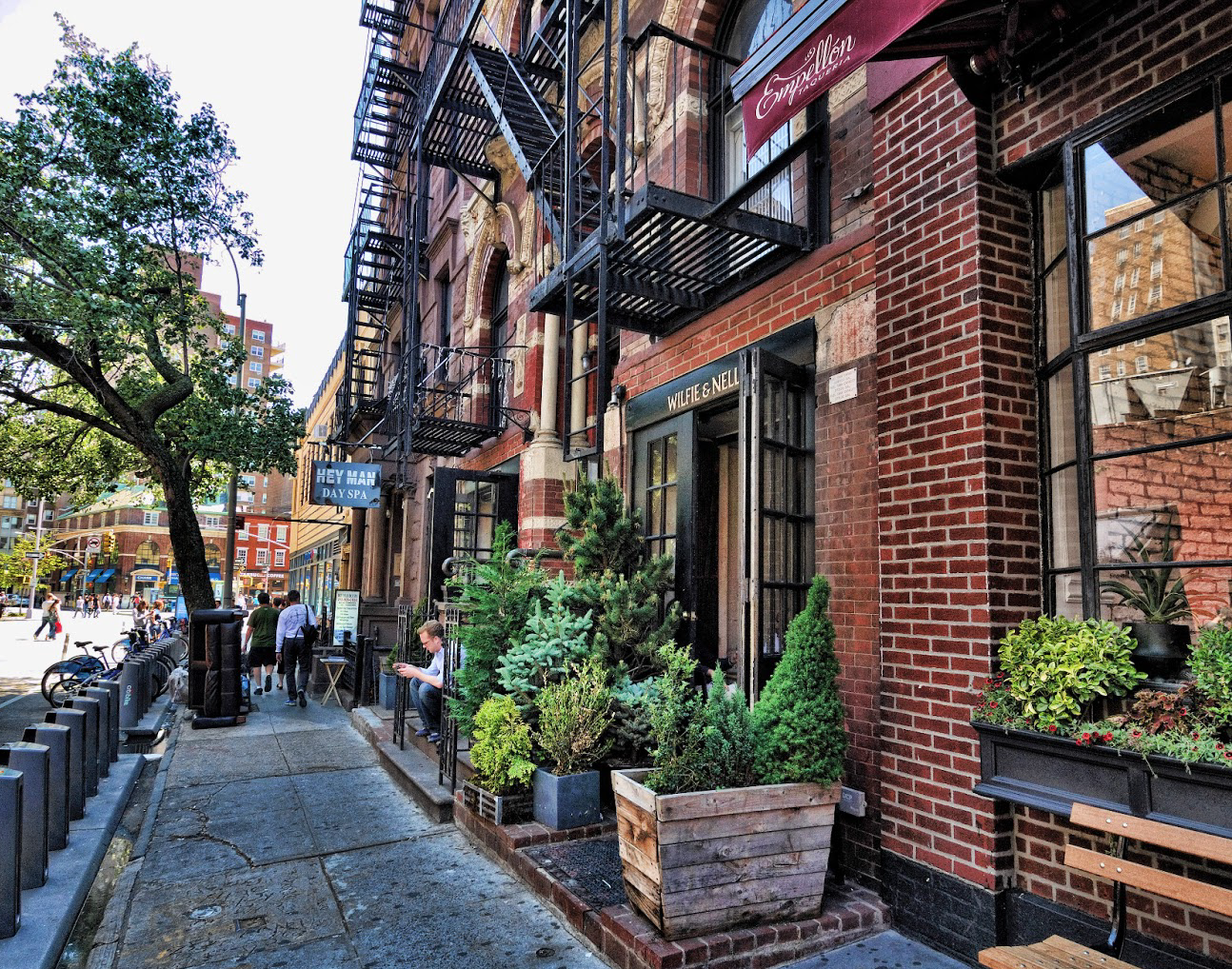 Greenwich Village (commonly called The Village) is one of the larger residential areas in Manhattan. Located in the southern downtown section, The Villages is surrounded by trendy neighborhoods including SoHo, the East Village, Chelsea and the West Village. Known generally as an icon of bohemian culture, Greenwich Village is one of the most eclectic areas in all of the Big Apple, offering everything from designer shops, to historic landmarks! Primary campuss for many of New Yorks top colleges and universities are found in Greenwich Village including NYU and the Benjamin N. Cardozo School of Law. So whether youre a college kid or an aspiring artist, The Village should definitely be at the top of your New York City car rental destinations list!
Driving your New York City Car Rental in The Village
When you visit Greenwich Village in your New York City car rental for the first time prepare to navigate some winding roadways! Unlike the rest of Manhattan, which is built in a formal grid pattern, The Village has a unique setup consisting of narrowed, curvy streets and a variety of angled roadways. You also may wish to keep a Greenwich Village roadmap in your New York City car rental as all of the streets are named rather than number, liked most other Manhattan roadways.
The Villages Artist Roots
During the 19th and 20th century Greenwich Village attracted artists and innovators from all over the world thanks to The Villages central NYC location and inexpensive rent. Eccentric individuals visiting the area in their New York City car rental will love the open-minded, alternative way of thinking practiced here in The Village. This community has long maintained a nonjudgmental attitude and progressive mindset, encouraging visitors and residents alike to embrace their lives and get involved in their beliefs. This open way of thinking has allowed The Village to play a major role in the gay liberation movement, numberous political rebellions and countless artistic movements. Famous (and infamous) Villagers include Bob Dylan, Maxwell Bodenheim, Joe Gould and many, many more!
Attractions in The Village
Today The Village is home to a wide variety of shops, restaurants and parks, all of which make for perfect tourist attractions. By far the most popular attraction and monument in all of Greenwich Village is Washington Square. Located in the heart of The Village, Washington Square is home to two major tourist attractions the fountain and the Washington Arch. Built in 1826, Washington Square now represents everything that The Village stands for, especially its bohemian flare. The towering Washington Arch, which is located at 5th Avenue and Waverly Place, was built for the centennial of Washingtons inauguration as US President and is now a permanent marble fixture. New York City car rentals and other traffic used to be allowed to drive through the Arch, but since 9/11 security precautions have halted this practice. Anther one of The Villages most popular attractions is the areas amazing shopping experience. From shoes to guitars and everything in between, youre sure to find just what youre looking for in The Village! Boutiques line the streets selling anything and everything you could possibly need, while the sidewalks are always full of busy window shoppers! AAMCAR Discount Car Rental highly recommends that you check out 8th Street, which is better known as the shoe store capital of the world! From stilettos to sneakers, expect to find that perfect pair of shoes, for a more than perfect price just be sure to reserve a New York City car rental with lots of trunk space before embarking on a Village shopping adventure!
From its artistic beginnings to present day retail, The Village is a must-visit for any New York City tourist. Beautiful old brownstones give this stunning neighborhood a sophisticated air, but dont be fooled! Beneath that angelic exterior lies the heart of a rebel, so let youre opinions roar when you visit Greenwich Village!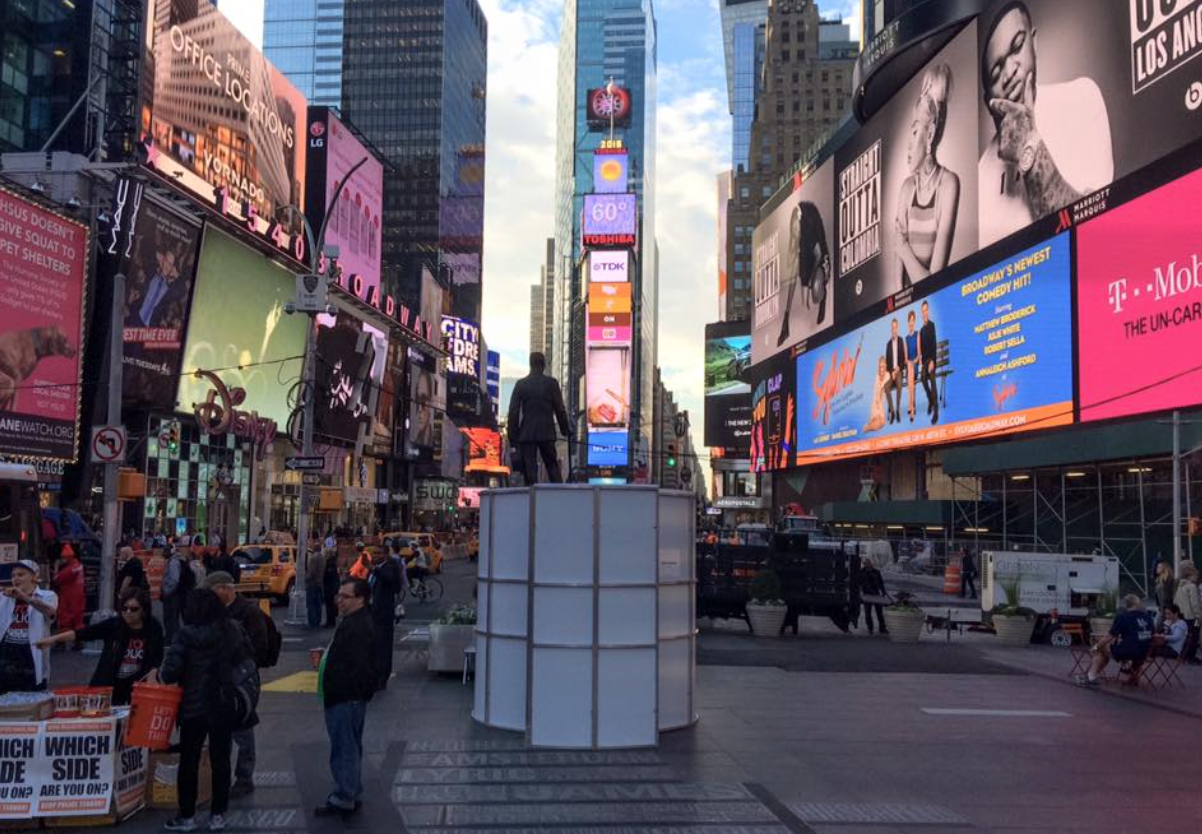 Times Square is the center of the action in New York City. One can't help but be mesmerized driving past the flashing neon lights and gigantic advertisements that line the sides of immense skyscrapers. If this is your first time visiting Times Square make sure to drive your New York rental car to 1560 7th Avenue, the location of the Times Square Information Center. Located in the beautifully-restored Embassy Movie Theatre, the Information Station offers free brochures and information on citywide attraction and includes maps of the Times Square Alliance. When you park your New York rental car and go inside you'll be able to purchase tickets at the Information Center for Off and On Broadway shows, book bus tours, purchase souvenirs, access the internet and enjoy a special Panasonic video exhibition on the Square.
Parking your New York Rental Car in Times Square
Times Square offers a variety of parking garages located throughout the Times Square area. These lots are a safe and affordable place to park your New York rental car but please note that not all of them are open 24 hours. A full listing of parking garages can be found at www.timesswuarebid.org/parking.html.
Times Square Facts
There are more than 251 restaurants ranging from fast food to elegant dining in the Times Square Alliance
The Times Square Alliance stretches from West 40th Street to West 53rd Street, just West of Sixth Avenue, stretching to both sides of 8th Avenue all the way to 9th Avenue and West 46th Street.
There are 399 property owners in Times Square (not including residents)
There are 21 million square feet of office space currently in use or available with 2.4 million more in the construction process!
One-fifth of all of New York's hotel rooms are found in Times Square – over 12,500 total!
There are 40 theaters in Times Square including the 22 landmark Broadway Theatres
There are approximately 231,000 employees who work in the Times Square district
Over 27,000 residents live in the greater Times Square area
There are over 1,500 business and organizations these include:

BMG Entertainment
The New York Times
Viacom/MTV
Time Square has come to be synonymous with partying for one main reason New Years Eve! Every year millions of people tune in to watch the ball drop over Times Square, while thousands upon thousands flock to New York to partake in the actual event. So don't even think about getting your New York rental car through Times Square on December 31 or January 1! The first official ball drop took place in 1907 and ever since then it has become a universal symbol for the New Year.
Other events that take place in Times Square include the "Taste of Times Square", "Broadway on Broadway" and a broad area of fabulous outdoor concerts. The year 2004 marked the 100 anniversary of the Times Square Alliance, resulting in a full year of celebration that included:
Special promotional galas
Summer concert celebrations
Special exhibitions, and lectures on Times Square history
The development of a new design vision for the landscape of Times Square
Artist, photographers and writers interpretations of the history and impact of Times Square
For more information on upcoming events in Times Square please visit the official website at www.timessquarebid.org. This site includes directories of all the businesses, restaurants and tours available in Times Square along with in depth looks into the history of the New York tourist attraction!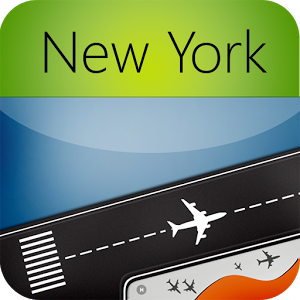 John F. Kennedy Airport is the busiest airport in New York, handling over 30 million passengers annually. JFK has nine terminals and hosts over 80 international airlines that travel the globe everyday! JFK is located a short 15 mile New York car rental drive from Manhattan in the borough of Queens, making it easy for travelers to get in and out of New York City. John F. Kennedy Airport originally opened as the New York International Airport in 1948, but was renamed for the president in 1963. JFK Airport is equipped with numerous hotels, shops, restaurants and New York car rental parking garages, making it a great entryway to NYC! Read on for more information on terminals and services available at JFK, or feel free to visit AAMCAR Discount Rental Cars other New York airport pages Newark International Airport and La Guardia Airport.
Terminals at JFK
When you're leaving the Big Apple after your business trip or vacation there are a few things you need to do. First, you must drop off your New York car rental, and then you must find your departure gate and the corresponding terminal. Now, JFK is a pretty humongous facility, so you may wish to do a little research and planning before embarking on your return trip home! Listed below is a brief description of the terminals at JFK and their approximate location.
Terminals 1, 2, 3
These terminal are next to the Van Wyck Expressway and include gates 1 to 10 (Terminal 1), gates 19 to 30 (Terminal 2) and gates 1 to 18 at Terminal 3. Terminals 1, 2 and 3 all service international flights include major airlines like Virgin Atlantic, Air France, Delta and Japan Airlines. These three terminals have a convenient parking garage centrally located between the three separate buildings, for those of you who need to park your New York car rental.
Terminal 4
Terminal 4 is located north east of Terminal 3 and includes gates 9 through 21 and 24 through 35. Terminal 4 has two separate wings, the East and the West which service more international airlines including Continental, Northwest, Air Portugal and many more. Terminal 4 has its own parking garage.
Terminals 5, 6, 7
These three terminals form the northern top of the central terminal circle and include gates 21 through 45 (Terminal 5), 1 through 7 (Terminal 6) and 1 through 12 at Terminal 7. These terminals service both domestic and international flights and include major airlines like Air Canada, United Airlines, America West and many more. Terminal 5 at this point in time is currently closed for renovations. A parking garage is available out front of Terminal 7 for those of you who need to park your New York car rental. Terminal 7 is also located next to the JFK Expressway, making locating the terminal in your New York car rental easier.
Terminals 8 and 9
Terminals 8 and 9 are both broken into two concourses; Terminal 8 has concourse A and B with gates numbered 1 through 24. Terminal 9 is split into concourses C and D with gates numbered 10 through 49. These terminals are located on the western side of the Van Wyck Expressway and service airlines like American, Iberia and Finnair.
Services within JFK Airport
John F. Kennedy Airport has a wide variety of services available for weary travelers. If you are an international traveler and need to exchange foreign money for American dollars there are bureaux de change Kiosks in every terminal, excluding Terminal 6. Other banking facilities are available in Terminals 3, 4 and 8 while cash machines, (automatic teller machines) are located in every terminal, excluding terminal 6. Restaurants and shops are located in every terminal offering a wide variety of snack, meal and entertainment options. Bus are available for travelers who wish to visit shops in a terminal other than theirs, but be aware that these buses get very busy during peak hours.   european kitchens   Discount Perfume
Visiting New York City is an exciting adventure, and flying into the ever active John F. Kennedy Airport makes for a great first glimpse of the Big Apple!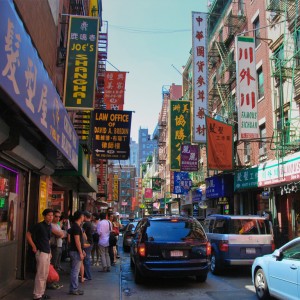 If youre looking to learn a little bit about a foreign culture during your trip to New York City, be sure to visit the citys Chinatown in your New York City car rental! NYCs Chinatown is a large neighborhood located in the heart of Manhattan filled with wonderful restaurants, shops and amazing tourist attractions. New York Citys Chinatown is home to the largest concentration of Chinese immigrants in the entire western hemisphere, so expect to find a community steeped in tradition! Chinatown is both a tourist attraction and a booming mini-metropolis providing residents and visitors alike with great markets and exciting products, so be sure to check it out in your New York City car rental once you get into town youll be happy you did!
Attractions in Chinatown
Thousands of tourists visit Chinatown each year to learn the history and tradition of the Chinese community. Top attractions in the area include museums, temples, local shops and prosperous marketplaces. Theres always something to see or do in Chinatown, so come prepared for excitement! Some of the top attractions in Chinatown include:
The Statue of Confucius
Located at Division Street and Bowery, this landmark is by far one of the most popular attractions in all of Chinatown. Confucius was a legendary philosopher and is by far the most respected educator in Chinese history. Confucius believed in the virtues of good and believed that a good government and harmonious society could be achieved through filial piety, honor and above all respect.

Another popular statue in Chinatown is the statue of Lin Ze Xu, who had been an Imperial Commissioner in charge of eradicating the opium business in China.

The Museum of Chinese in the Americas

Located on Mulberry and Bayard Street the Museum of Chinese in the Americas offers a wide range of exhibits and displays designed to educated people of all different backgrounds on the importance and significance of Chinese traditions in the Americas
Other exciting attractions located in New York Citys Chinatown include the Church of Transfiguration, the Mahayana Temple Buddhist Association, the Chinatown Fair and the First Chinese Presbyterian Church.
Dining in Chinatown
Chinatown is the place to be if youre feeling hungry and looking for something great to eat! There are over 400 restaurants located in Chinatown, specializing in authentic Chinese and Asian cuisines. Dining in Chinatown is like no other culinary experience, so be sure to reserve your table today. Top Chinese styles of cooking served in Chinatown include Cantonese, Szechwan, Shanghai, an Hunan. Chinatown also offers tasty Vietnamese, Thai and Malaysian cuisine, so be sure to drop for a bite to eat in your New York City car rental!
Shopping in Chinatown
Chinatown is filled with wonderful shops, so be sure to empty out your New York City car rentals trunk before embarking on a shopping adventure! Chinatown is the place to find precious stones, especially jade. Jade is believed to be not only valuable, but also extremely powerful as it is able to block evil spirits in the Chinese tradition. Beautiful jade jewelry is available throughout Chinatown along with beautiful oriental clothing, souvenirs and knick-knacks.
Chinatown Festivals
If youre interested in participating in some of Chinatowns biggest celebrations be sure to schedule your New York car rental for these occasions!
Chinese New Year
Celebrated during the months of January and February, expect to see the houses in Chinatown decorated with red and gold.
The Ghost Festival
This spooky ritual is held on the 15th day of the seventh lunar month.
The Mid-Autumn Festival
This celebratory festival is held on the 15th day of the eighth lunar month in honor of the changing season.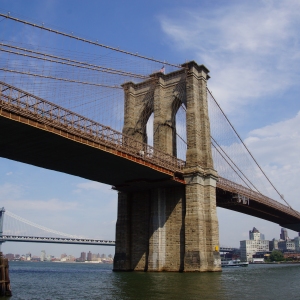 The historic Brooklyn Bridge, connecting Manhattan to Brooklyn over the East River, is by far one of the most recognizable monuments in all of New York City. Measuring in at over 3,460 feet this suspension bridge is considered to be a brilliant feat of 19th century engineering and its easy to see why. The Brooklyn Bridge was the first suspension bridge to use reinforced steel for the bridges cable wire, while at the same time relying on a highly dangerous underwater device, the caisson, to help explode hazardous rock outcroppings found beneath the East Rivers surface. The resulting monument was stable and secure, capable of helping millions of people travel from Manhattan to Brooklyn in no time. Today the Brooklyn Bridge continues to rein supreme as one of the busiest bridges in NYC, as thousands of New York City car rentals cross the bridge each day.
Brooklyn Bridge History
Before the Brooklyn Bridge was completed in 1883 it was plagued with a variety of problems, the worst of which occurred before the bridge had even begun construction! The chief engineer in charge of the Brooklyn Bridge project, John A. Roebling, died of tetanus while the Brooklyn Bridge was still in its planning stages, causing dramatic setbacks. Thankfully Roeblings son, Washington A. Roebling, took over where is father left off; completing the plans for what would become the worlds largest suspension bridge. Three years after taking over the Brooklyn Bridge Project, Washington developed a serious illness called Caissons disease. This crippling sickness, known today as the bends forced a bedridden Washington to watch his masterpiece grown from home with the aid of a telescope! Washington often dictated instructions to his wife Emily, who would then pass them on to the workers outside. Building the Brooklyn Bridge also proved to be difficult thanks to rocky outcrops still visible in the East River of today. Two caissons were ruined due to fire and explosion, while one of the massive steel cables snapped apart, crashing into the river, killing many workers. Despite continual setbacks and seemingly bad luck, the Brooklyn Bridge was completed remarkably quickly, taking just 14 years to build. Since 1883 the Brooklyn Bridge has stood as a part of the NYC horizon, thanks to the dreams and expert designs of two innovative men.
Driving your New York City Car Rental on the Brooklyn Bridge
If youre planning to travel between Manhattan and Brooklyn during your stay in the Big Apple, AAMCAR Discount Car Rentals suggest taking your New York City car rental across the historic Brooklyn Bridge. There is no toll to use the Brooklyn Bridge, making it one of the most popular links between two of New Yorks largest boroughs. Over 144,000 vehicles cross the Brooklyn Bridge each and every day, making it the second busiest bridge in all of NYC. If youre planning to take your New York car rental across the bridge during rush hours, be sure to leave a little early. Traffic can get pretty congested on the Brooklyn Bridge so plan accordingly. Other links between Brooklyn and Manhattan include Brooklyn Battery Tunnel, Manhattan Bridge and the Williamsburg Bridge. All three bridges are toll-free, while the tunnel crossing will cost you $3.50 each way.
May 24, 1883, the Brooklyn Bridge is Officially Opened!
When the Brooklyn Bridge officially opened on May 24 1883, 150,300 people took part in the celebratory bridge crossing at 2 pm it cost each pedestrian one cent to take part in the festivities
When the Brooklyn Bridge was opened to vehicles on May 24 1883, over 1,800 automobiles crossed the East River it cost each vehicle five cents to use the bridge that day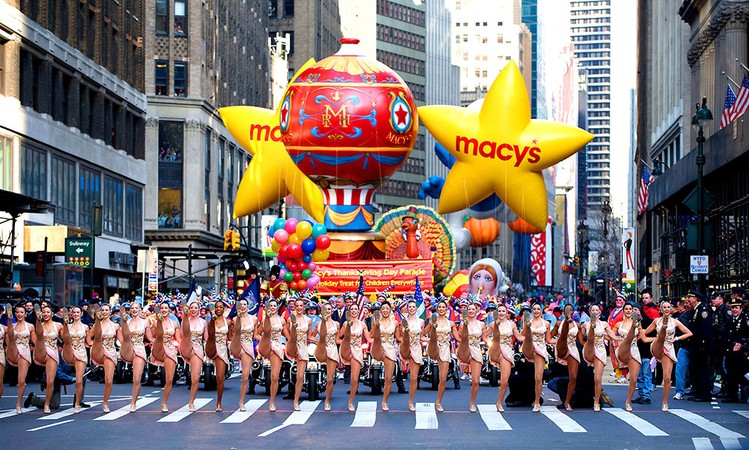 When visiting New York there are a few must-see and must-do experiences that simply cannot be missed. Places like the Statue of Liberty, Ground Zero and Times Square are obvious options, but by far the most enjoyable New York experience is shopping! New York is home one of the worlds leading fashion industries, so it's almost guaranteed to find something perfect for your budget, body and taste. Before you get to excited though, be sure to reserve a New York car rental with lots of trunk space you're going to need it!
New York City Malls
To start your shopping experience be sure to check out some of New York City's premiere malls. Finding a parking spot for your New York car rental might be a little tough, but it's worth the struggle. Malls like the Manhattan Mall on 6th Avenue and 33rd Street offer practically every store in the world, from hip clothing distributors to modern house wares. The Staten Island Mall located at 2655 Richmond Avenue offers all the big names like Macy's, Sears and JC Penny along with other specialty stores, so be sure to check them out! Other malls in New York City include the Queens Center at 90-15 Queens Boulevard at Woodhaven Boulevards, and the South Street Seaport at 12 Fulton Street to name a few!
Designer Duds
In the mood to splurge a little on yourself during your NYC trip? Why not check out some of the amazing designer clothing stores found in New York! Gas up that New York rental car and empty out the backseat, you're going to need as much cargo room as possible! Most of the stores like Anna Sui, Ann Taylor, Calvin Klein, Chanel, Dolce and Gabanna, Gucci, Prada, and Vera Wang can be found nestled into the New York City fashion district that is Madison Avenue. There are literally thousands of new designer clothes available in New York, so let your inner shopping personality go wild! It is totally understandable if you need to make a few trips back and forth to your favorite stores because you've run out of trunk space in your New York rental car!
Vintage
Vintage clothing is always in style, so don't miss out on scoring some seriously sweet swag at some of New York's trendiest Vintage boutiques. Stores like The Antique Boutique, Alice Underground, Canal Jeans and Cheapjack's are all located on Broadway, which makes it an easy cruise in your New York rental car. These shops offer one of a kind merchandise at great prices so don't miss out!
Toy Stores
Are you traveling with small children during your trip to New York City? Why not take them to one of the many elaborate toy stores located throughout the city! These toy stores are a perfect distraction for tired and cranky kids with all the bright colors, sweet smells and kid preferred merchandise. You may even find your adult self revisiting your own childish roots inside stores like Chimera, Enchanted Forest, Penny Whistle Toys, Star Magic and Warner Brothers Studio stores.
New York is also home to many beautiful furniture stores; both antique and designer, leather or wood New York's got it all! There are also bookstores galore from the large chain stores to the more personal and cozy privately owned endeavors. Bookstores are the perfect place to relax and de-stress after a long day of sight seeing and fighting traffic in your New York rental car, so be sure to take advantage of the serenity! Camping goods, cosmetics and electronics are just a few of the other products available at some of the many fine retailers in NYC. So stop by the bank and get ready to indulge in some retail therapy you never know when a pair of slinky black sling-backs may start calling your name!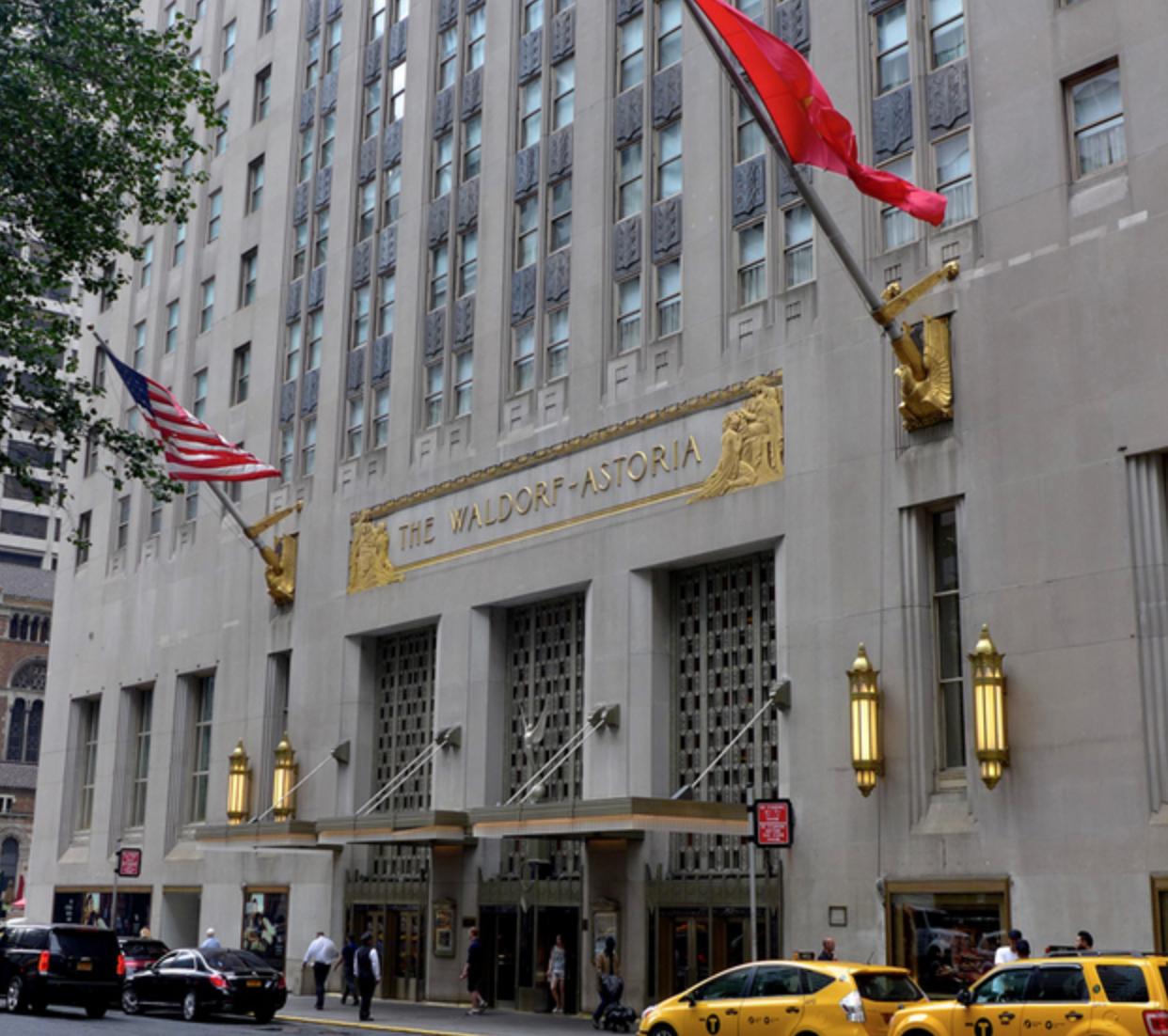 Are you looking to live it up in the lap of luxury during your next vacation? Well, New York City has just what you're looking for! Luxury hotel accommodations are abundant in this city of constant light and action. Living life like the rich and famous, even for just a few days, is an experience everyone has dreamt about at least once or maybe a million times, so why not make that dream a reality? Valet paring for your New York rental car, room service every night and silky soft sheets await you! Read on to learn about some of the special features provided by luxury hotels and for the names of some of New York's finest!
New York City is by far one of the biggest, busiest and most popular places in the world! With literally millions of people visiting yearly, New York has become the epicenter of business, entertainment and much more. The business of luxury accommodations in New York has become a huge industry, creating some fantastic hotel options for those people visiting the Big Apple. Luxury accommodations offer you more than just a place to sleep at night; in fact they offer you a whole new travel mentality. From world famous restaurants to top notch spa retreats, there isn't much you can't do at a New York luxury hotel!
When you're driving through the City in your New York rental car be sure to stop and stare at some of these luxury establishments. They tower over the city like giants, oozing the very best that money can by. Fifth Avenue and Park Avenue are home to some of the best hotels in New York City including the historic Waldorf Astoria, the Plaza Hotel and the Kitano. If you want to take a short drive in your New York rental car over to West and 60th you'll come face t face with the Trump International Hotel and Tower talk about luxury!
Amenities Offered in Luxury Hotels and Suites
Depending on what hotel you stay amenities could include: a turn down service, refrigerators, 2-line telephone, fax machine, high speed internet, complimentary cell phone during your New York stay, DVD player, min-bar, in room library, personal masseuse, coffeemaker and so much more! Luxury suites are decorated with the crme de la crme of interior design, often offering plush sofas, beautiful lamps and immaculate views of the city that never sleeps.
Hotel Amenities
The luxury hotels available in New York City offer everything! From valet parking for your New York rental car to state of the art fitness facilities, NYC knows how to treat its guest's right! If you're traveling on business don't worry, luxury hotels offer business centers, and professional boardrooms perfect for presenting your big business pitch in style. By far one of the best perks of staying in a luxury hotel is the food. Many of the best places to eat in New York are located inside hotels like the Ritz Carlton and the Carlyle. Fine cuisine is provided by world-class chefs, prepared with the finest ingredients from all around the world. Don't feel like getting all dressed up to go down to the dining room? Why not have it sent up by room service? Many restaurants located in luxury hotels offer the option of room service, allowing you to enjoy the mouthwatering dishes from the privacy of your own room.
Luxury hotels don't come cheap, so be sure to visit sites like www.priceline.com or www.hotels-and-discounts.com to check out deals and discounts. Also be sure to check out the luxury hotels website, often they will post special opportunities online.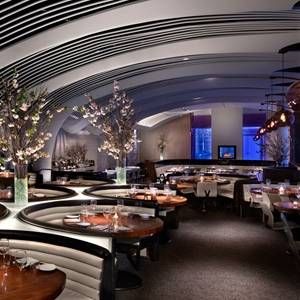 Hungry? Then it's time for you to check out one of New York City's 18,000 plus restaurants! Are you in the mood for some exquisite culinary cuisine this evening? Then treat your taste buds to some Fine Dining experiences la New York! New York offers innumerable fine dining options in its upscale neighborhoods, so regardless of what you're craving; be it seafood and steak, or a finely aged wine, there's sure to be something perfect for you and your travel mates. Plus there are so many fine dining establishments in the city you won't have to drive all over the place in your New York car rental searching for something just right!
Times Square Area
Are you looking for a place to eat after in a show in the New York Theatre area, better known as Times Square? How about something a little cultural? The Times Square area offers a handful of mouthwatering Asian, Chinese and Japanese restaurants perfect for those of you craving something a little oriental! The Haru and Ruby Foo's are both located on Broadway, so why not park your New York car rental for the night and enjoy a leisurely stroll. For those of you watching your wallet this vacation restaurants like Little Saigon and Siam Inn Too offer moderate and inexpensive prices without skimping on taste! If you're looking for delectable sushi jump into your New York car rental and head to 57 West and 46 street to Sushi Zen! The Times Square area also offers other international cuisines like French at Les Sans Culottes, or Italian at Candela and there are always authentic American restaurants like the Times Square Brewery Restaurant available.
Central Park
Have you lost track of time during your visit to Central Park and are now absolutely ravishing for some good eats? Don't worry, there's no need to drive uptown in your New York car rental! Why not drop in at Fantino's Italian fine dining restaurant? Interested in grabbing a nightcap before heading back to your hotel room in your New York car rental? Why not visit Caf Pierre or Nirvana? Both offer a fully equipped bar on-site, so why not try and stump the bartender with an extravagantly elaborate drink order!
The Lower Manhattan Area
Heading downtown this evening in your New York car rental? Why not stop by and grab a bite to eat at the Fleur de Sel? The Fleur offers a three course tasting menu for lunch along with a six course seasonal tasting menu for dinner. The lounge area at the Eugene restaurant is open until 4am for those of you who prefer the New York nightlife! Offering fine dining and a fully equipped bar, Eugene's is sure to become one of your fast favorites! If it's a good steak you're looking for than Uncle Jack's Steakhouse is where you want to be! Uncle Jack's offers an award-wining venue which features impeccable service and an exceptionally tasty array of items on the menu.
Greenwich Village
If you're in Greenwich Village during your stay in New York you simply must visit Butter. Butter has an ever changing menu thanks to the guidance of the Executive chef Alexandra Guarnaschelli. His exotic re-interpretations of classic New American tastes is something you try! Plus the deserts are simply to die for! Guarnaschelli has created such concoctions as Bittersweet Chocolate Crme Brule by combining European techniques with classics American ingredients.
Bon Appetite!