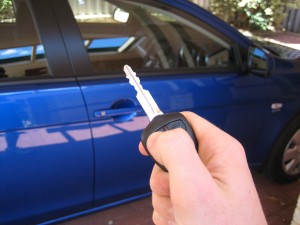 Let's face it, locking the car keys actually inside the car is something we've all done (or at least most of us have) at some stage in our lives. How much worse though if the car happens to be an NYC car rental vehicle and therefore one for which we don't automatically have a spare key in our handbag or back in a drawer at home?
And isn't it always the way that you're in a nightmare location – and a ridiculous hour of the night – when this scenario occurs? It is in our experience anyway.
Meanwhile, what should you do when you lock the keys inside the car? There are several options of course. You could call try and open the car window with a coat hanger, try and unpick the car lock or call out an emergency road assistance team/the local garage. All of these are awkward and are going to take time. So what's the best thing to do? Well read on…
Call the police
Chances are you're in the middle of nowhere in a rural location or a tough part of town. It could be dangerous just standing around – especially if you are a female on your own (emergency break down companies always prioritize lone women). Call the nearest police station and tell them you're worried and vulnerable. Chances are someone from there will be along to pick you up – and they may well have the know-how how to get into the NYC car rental and get the keys for you too.
Call the emergency road side team
You should be a member of an emergency road side team such as Allstate or AAA – especially if you already own a car of your own. The good news is that they will definitely come out to get you. They'll also have the equipment to unlock your car and get the keys for you. The bad news is you may have to wait for them. If so, and you're in a worrying location then it's still fine to call the police and have them wait with you.
Give us a call here at Aamcar
We may very well have a spare key for the car or NY van rental you have rented and could come out and drop it off – provided you're not hundreds of miles away from our location. Alternatively, if you are a great distance away then we can call emergency assistance on your behalf to make sure you'll get home safe. Where we can, we'll also make sure that you have alternative transport to allow you to finish your journey.
What to avoid
It may be tempting but it's not a good idea to break into the rental vehicle by smashing a window or jimmying open the door. The reason for this is that it is going to turn out very costly in the long-run when it comes to replacing these items – especially if, as well as breaking the window, your intervention also results in the upholstery being ripped.
We hope the above has been helpful but obviously are keeping our fingers crossed that it doesn't happen to you! At least if it does, now you know what to do. You can find out more tips and advice about car rental hire by taking a look through the rest of the posts on this blog or by going to our website at Aamcar.com.
There you'll also be able to take a look through the type of vehicles we have for hire and find out – via an online calculator – exactly how much it will cost you before you even call us. Having said that, feel free to contact us any time.