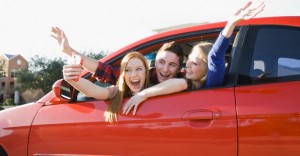 There are many ways to impress a woman – and one of them is to turn up at her apartment door to take her out on a date with some of the smartest wheels she's ever seen. Failing that, a pretty stunning looking car rental in NYC will do.
Here at Aamcar in the Big Apple we're pleased to say we certainly have NY car rentals that will do the job as far as guaranteeing a smile on your date's face. These range from a smart and compact Mitsubishi Mirage to a two door Ford Mustang and a five seat Jeep Cherokee SUV.
One to one intimate driving
The more comfortable and smart-looking the car rental, the more your new date is going to want to be happily cruising around downtown in that palace on wheels of yours. After all – she might spot some friends that she wants to show off too, and then again, so might you. No-one needs know, after all, that it's a NY car rental and not your own (including your date – at least not until you get to know one another a bit more).
What's more, your date may love driving around so much that she doesn't want to go to that fancy restaurant you had planned on taking her to (which means you have already offset the cost of hiring the car rental in the first place!).
A party on wheels
But then again, maybe there's more than one woman you want to impress? For instance perhaps you and your buddies are planning on more of a party with a handful of dates? If so then the 15 passenger NY passenger van rental would definitely be more your scene. It would certainly be comfortable enough to take you all to your final destination without anyone getting annoyed because someone is squashing their big toe or sitting on their new skirt and crushing it (we've personally been there, you see!).
The larger rental vans come in a wide variety of smart colours and are perfect for a crowd – thanks to the fact they're so spacious inside. They also tend to have a pretty funky music system so excellent for entertainment value too.
Another great thing about going with a group is that although you are the designated driver, it doesn't mean that you will be footing the bill. In other words, hiring a 15 seat passenger van with a handful of you chipping in for the cost will work out so much less expensive for everyone in the long run, giving you more cash left to spend on eats and drink.
Under age car rental
Hiring a NY car rental with us here at Aamcar is fine – providing you have a licence and are old enough to drive. We'd also like some proof of responsibility ie that you have driven regularly before and that you are prepared to pay additional insurance cover.
If you'd like more information about these extra charges then do feel free to give us a call and ask at any time. We'll happily explain them. Meanwhile, why not take a look through our New York car rental firm Aamcar website to see if there is any vehicle in particular that takes your fancy?