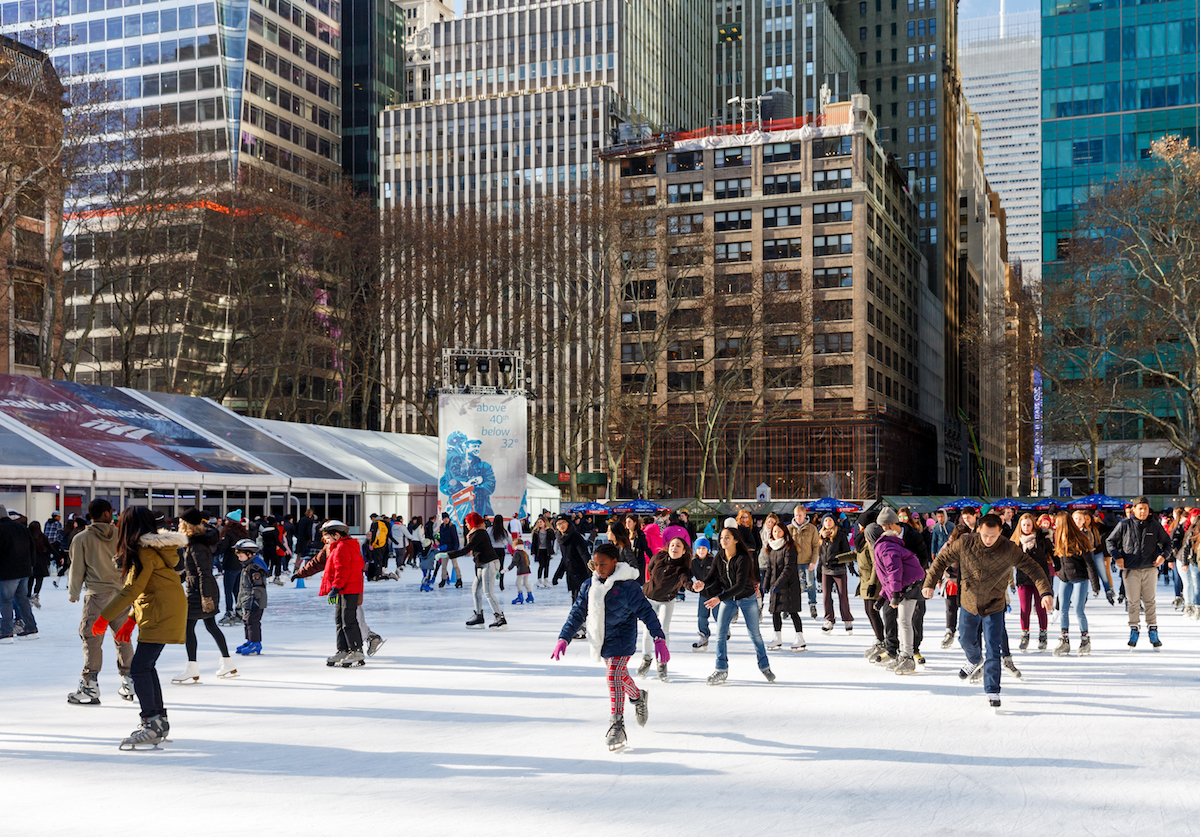 Nothing says winter in New York like a romantic skating date at Rockefeller Center, one of NYC's most popular outdoor skating and entertainment pavilions. AAMCAR New York Car Rental customers of all shapes and sizes can truly enjoy an afternoon on the ice in NYC, thanks to the city's numerous outdoor and indoor skating facilities and training complex. Whether you're training for the Olympics or simply looking for an easy afternoon of activity, the rinks of New York City currently offer a wide variety of free-skating programs perfect for skaters of all levels and experience. Skating in New York City is a cheap and easy way to get out and enjoy some of the areas most stunning sights, so why not grab a friends and enjoy and afternoon of invigorating outdoor fun! Top New York City skating centers include:
Bryant Park Ice Rink: The Bryant Park Ice Rink (better known as 'The Pond') is one of New York City's newest outdoor skating complexes. The centerpiece to the Fetes de Noel, The Pond features free public skating in addition to a range of special events and activities. Skaters of all levels are welcome on the 170'x100′ ice surface, which is open every day and evening. Skate rental are also available for $7.50 a session. For more information on The Pond please call 1-866-221-5157.
The Wollman Rink in Central Park: Another of New York City's finest outdoor arenas, the Wollman Rink currently hosts daily and nightly skating sessions. Opened in 1950 thanks to the donations of philanthropist Kate Wollman in memory of her parents and siblings, the Wollman Rink also features a stunning view of the surrounding NYC skyline. Amenities at the Wollman Rink include skate and locker rentals along with private lessons and park vendors. To learn more about the Wollman Rink please call 212-439-6900.
The Lasker Rink and Pool in Central Park: Located mid-Park between 106th and 108th Streets, the Lasker Rink and Pool is one of Central Park's most popular year round tourist attractions. Used as a huge swimming pool in the summer, the Lasker Rink is open seven days a week with an admission of just $4 per adult and $2 per child. To learn more about the Lasker Rink and Pool please call 212-534-7639.
Rockefeller Center Ice Rink: By far the most famous NYC ice pad, the Rockefeller Center Ice Rink is located between 47th and 50th Streets and 5th and 7th Avenues. Open from Columbus Day weekend through early April, the Rockefeller Center Ice Rink is a definite must-see for AAMCAR New York Car Rentals' winter rent-a-car travelers. Ice skate rentals at the center cost a bout $8 per session, while admission to the ice rink can cost anywhere from $17 to $9 depending on the time of year. Lessons are also offered on the rink for approximately $32. To learn more about skating at the Rockefeller Center Ice Rink please call 212-332-7654.
Inline Skating in NYC
If you're planning on reserving a rent-a-car from AAMCAR New York Car Rentals during the summer months you may wish to check out one of the Big Apples exceptional inline skating clubs and arenas. Numerous venues are currently located throughout Manhattan and the other four boroughs, each with its own unique flare and style. AAMCAR New York Car Rentals recommends visiting the Chelsea Piers Skate Park and the Pier 26 Skate Park in Manhattan; the KCDC Skateshop in Brooklyn; the Mullaly Park Center in the Bronx; the Rockaway Skate Park and the Forest Park Skate Park in Queens; and the Inline 1 Sports Center and the Rampage Skate Park on Long Island. All information on public skate parks run by the New York City Department of Parks and Recreation can be found on the official Parks and Recreation website at www.nycgovparks.org.