Travel to Coney Island with your New York car rental to see one of the most famous roller coasters of all time. It opened in 1927 where a roller coaster called the Great Coaster was previously located, which was the worlds fist roller coaster. The Cyclone is a wooden-track roller coaster that is tight and steep. This is due to the small amount of space on the island for the coaster. However, it remains one of Coney Islands best attractions. Come down to Coney Island in your New York car rental to try it.
Amazingly, when the Cyclone first opened a ride cost twenty-five cents, or thirty-five on Sundays. In the 1930s the ride was very popular. There is even a story about a mute since birth screamed and said I feel sick while he was on the ride, then fainted when he realized he had spoken. In the 1960s attendance began to dwindle, and the City of New York bought the Cyclone. The lack of riders and profits almost lead to the roller coaster being torn down in 1972. The ride was saved, and was added to the National Register of Historic Places. Today it costs five dollars to ride, quite a difference from when it first opened!
Coney Island also has many other attractions for kids and adults alike. You can spend part of the day at the beach, swimming and eating Coney dogs. Or, you can go to the amusement park and try some of the rides. There are many thrill rides: the Cyclone, Pirate Ship, Scrambler, Bumper Cars, Tilt-A-Whirl, and many more. For kids there are Tea Cups, Super Swing, Fire Engines, mini roller coasters, and a Carousel. There are also three arcades, ten games of skill, and two Coney Island style restaurants. There is so much to do here, so plan to spend some time here!
Coney Island was a very popular resort destination in the early 20th century, but lost popularity after World War Two. Part of the reason for its decline was because of the popularity of the automobile, which allowed people to easily travel to Long Island easily. The 1950s was a period of unrest for Coney Island, with street gang problems. This affected the amusement parks, but the beach was still a popular destination. Now only Astroland remains as the sole amusement park on the island, gradually expanding over the years.
If you happen to be in the area in the winter with your New York car rental, the Coney Island Polar Bear Club is the oldest winter bathing club in the United States. Members swim every Sunday in the winter!
Getting to the Cyclone is easy. From central Manhattan it is under 20 miles, or about 30 minutes by New York car rental. It is part of the Astroland Amusement Park, with parking available. There are alternatives to driving your New York car rental here. The subway and 5 buses go by. If you do decide to drive in your New York car rental, take the West Side Highway to the Brooklyn Battery Tunnel, then take the BQE West to Belt Parkway East and get off at exit 7B, Ocean Parkway. Go right on Ocean Parkway for 4 blocks. When Ocean Parkway ends and becomes Surf Avenue, Astroland will be on your left at the corner of West 10th Street.
A trip to NYC in your New York discount car rental just wouldnt be complete without a visit to the towering Chrysler Building located in downtown Manhattan. Built back in the early 1930s by automobile tycoon Walter Chrysler as a status symbol, the Chrysler building is now one of the most recognized buildings on Manhattan Island! Made of steel and faced with brick the Chrysler Building pays homage to the car company name with a few intricate details and unbelievable designs! One of the last remaining skyscrapers crafted in the Art Deco style, the Chrysler Building is a definite must-visit for anyone planning a trip to New York City. Located along Lexington Avenue, in the heart of Manhattan, the Chrysler building is located just a short New York discount car rental ride from practically anywhere in Manhattan!
Racing for the Sky
Back in the summer of 1929 an exciting and highly competitive race was being held in NYC, and it wasnt the annual marathon! After the Eiffel Tower was erected in Paris a huge surge was put forth to see who could top the then highest building in the world. The island of Manhattan became the battling group for what is considered to be the most intense race in skyscraper history, pitting the Bank of Manhattan Trust Company against Walter Chrysler and his team of engineers. For months the race was neck and neck, until the spring of 1930, when it appeared that the Bank of Manhattan Trust Company had come out on top, completing a 283 meter tall tower. But the Banks victory was short lived – just one week after construction had ceased on the Bank of Manhattan a secret crew hidden inside the very top of the Chrysler Building jacked a needle thin spire through the skyscrapers crown! Once the building was finally completed it measured in at approximately 319 meters, or 1,046 feet capturing the coveted title of Worlds Largest Building! The Chrysler Buildings victory was also short and sweet as, in true New York style, a bigger and better building was already on its way to completion! Just four months after being crowned the king of all skyscrapers, the Empire State Building opened on 5th Avenue measuring in at a staggering 1,250 feet.
Final Touches
Not only is the Chrysler Building one of the tallest skyscrapers in the world, it is also one of the most intricately decorated! When driving by in your upcoming New York discount car rental be sure to stop and take a closer look. When Walter Chrysler decided to build a new office building he wanted something fresh and new; A bold structure, declaring the glories of modern age. So, with the help of famed architect William Van Alen, Mr. Chrysler decorated his skyscraper with everything from hubcaps to mudguards! Instead of using traditional gargoyles as decoration, Walter Chrysler decorated his tower like he did his cars, crafting unique ornamentation in the likeliness of actually automotive parts! Today the Chrysler Building still stands as one of the worlds most innovative and original Art Deco buildings, a style characterized by sharp angular surface forms and interesting ornaments.
Interesting Facts about the Chrysler Building
The following facts will be sure to impress all of your New York discount car rental friends, so be sure to print them out before embarking on your adventure to the Chrysler Building!
The Chrysler Building is 77 stories high and cost $20 million to build
There are over 3,862 windows on the Chrysler Building
Walter Chrysler never paid the famed architect, William Van Alen for his design work on the Chrysler Building because he was certain that Van Alen was involved in a suspicious financial operation with the buildings contractors
Over 3,826,000 bricks were used to cover the 20,961 tons of structural steel used to support the Chrysler Building
The Chrysler Building recently underwent a full-scale restoration in 1995, returning the building back to its original glory
From classical greats to pop culture icons, Carnegie Hall is the place to be for mind-blowing concerts and musical mayhem! Located at the corner of 57th Street and 7th Avenue, Carnegie Hall is by far, on of the most important and impressive concert venues on the planet! Made up of three distinct structures, Carnegie Hall is famous for both its architecture and acoustic quality, so be sure to stop by in your New York discount car rental! Home to three separate auditoriums, (the Main Hall, the Weill Recital Hall and the Zankel Hall), Carnegie Hall is intricately designed for optimum sound and immense enjoyment, so be sure to reserve your tickets today!
How do you get to Carnegie Hall? Practice, Practice, Practice!
Located at the southeast corner of 57th Street and 7th Avenue, Carnegie Hall is just two blocks south of Central Park. If youre planning on attending a show in the Main Hall, better known as the Isaac Stern Auditorium, plan on parking your New York discount car rental as close to the main lobby as you can. Access to the Main Hall is via the front lobby only. If youre looking to visit the Weill Recital Hall, plan on parking close to a separate entrance located at 154 West 57th Street, while access to the Zankel Hall is located on Seventh Ave. between 56th and 57th Street.
About the Carnegies Halls
Carnegie Halls main auditorium can currently hold a massive audience of about 2,804 people on five different levels of seating. Now official called the Isaac Stern Auditorium, after the famous violinist, the Main Hall is best known for its stunning live acoustics. Often called an instrument in itself the Isaac Stern Auditorium is amazingly tall in order to reach seats at the top of the hall youll have to climb over 105 stairs (or you can take the elevator). The Weill Recital Hall, named after famous financier and Philanthropist Sanford L. Weill, is capable of holding a much smaller crowd of approximately 268 people. The Weill Recital Hall is also home to Carnegie Halls Rose Museum and the Carnegie Hall Archives. The second largest auditorium at Carnegie Hall is named after the institutes Vice Chairman, Arthur, and his wife Judy Zankel. With a capacity to hold 599 concert goers, Zankel Hall is the newest addition to the Carnegie Hall family. Built as the original Recital Hall for Carnegie Hall in 1891, this substantial performance hall was turned into a cinema during the late 1950s, before returning to the concert hall business in 1997.
Architecture and History of Carnegie Hall
After youve parked your New York Discount car rental in front of Carnegie Hall, be sure to stop and take a good look at the buildings architecture. Built in the late 19th century by architect William Burnet Tuthill, Carnegie Hall is one of the largest remaining buildings in New York City to be built entirely of masonry. Built as a revivalist brick and brownstone building, Carnegie Hall is fashioned in the Italian Renaissance style feature narrow Roman bricks with terracotta detailing. Once inside the main lobby of Carnegie Hall be sure to take some pictures of the Pazzi Chapel-like detailing, featuring everything from Corinthian pilasters to vaulted ceilings! Named after Andrew Carnegie, who paid for the halls construction back in 1890, Carnegie Halls official opening night was May 5th 1891 with a concert conducted by the great composer Peter Ilyich Tchaikovsky.
Remembering Carnegie Hall
Once youve visited Carnegie Hall in your New York discount car rental, remember to stop by the Rose Museum and Carnegie Hall archives located just inside the Weill Recital Hall. The Archives and museum at Carnegie Hall feature old posters and programs from throughout the Halls long standing history, along with beautiful photos and exciting memorabilia.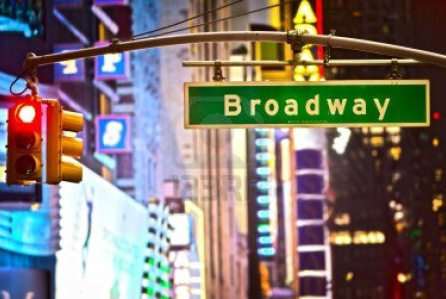 Broadway is the oldest north-south main thoroughfare in the city. This street is famous for the theatre industry by the same name. However, it was once an Indian trail carved into the bush that occupied Manhattan Island. It runs the length of Manhattan and crosses to the mainland over the Broadway Bridge. In fact, you can take it past Albany all the way to Champlain, New York with your New York car rental. Here, the road ends at the Canadian border.
Broadway Theatre
Broadway is perhaps best-known for its theatres that have many large-scale plays, mostly musicals. The Theatre District is located near Times Square, at Broadway and Seventh Avenue in midtown Manhattan. This area is possible the most-recognized street in the world, being featured in many movies and television shows. There are almost forty larger professional theatres in this area, with many more smaller ones as well. Musicals such as Rent, Les Miserables, and Phantom of the Opera have been performed on Broadway and have been critically acclaimed. The Phantom of the Opera is the longest running musical with 7486 performances. To see a play, drive down to Duffy Square with your New York car rental. Here, you can buy same-day tickets for many Broadway and Off-Broadway shows for up to half the original price off. Shows that are currently playing include Chicago, The Odd Couple, The Color Purple, Mamma Mia!, The Lion King, The Producers, and many, many more. Seeing a Broadway play if you are able to is part of the New York experience, so come down with your New York car rental and catch one!
Times Square
Also near Broadway playhouses is Times Square, an iconic image of New York. Whether you drive through with your New York car rental or want to see it in person, this is an amazing sight. In the morning, this is where Good Morning America is broadcast, and there are plenty of shops, movie theatres, and restaurants as well. A large police presence in the area in recent years has made the area much safer.
Union Square
Union Square is an important historic landmark in New York City, and it is noted for its farmers market, held Mondays, Wednesdays, Fridays, and Saturdays. The park is also notable for its political demonstrations.
Madison Square
Madison Square is a 6 acre public park at Madison Avenue, 23rd Street, 26th Street, and Fifth Avenue. The park was made famous by Madison Square Garden, a large sports arena where large concerts are often held. This is a great place to visit during the day with your New York car rental to relax and check out the historical landmarks, or come at night to Madison Square Gardens to catch a concert.
Traveling north in your New York car rental on Broadway, you will also pass Central Park, the Julliard School, the Lincoln Center, and Columbia University. Whether you want shopping, entertainment, performing arts, or history, Broadway is the street to visit in New York City.
Carnegie Hall is a concert venue in New York City located at 57th Street and Seventh Avenue. It is known as a great place for classical and popular music due to its beauty and good acoustics. Each year, there are about 100 performances in three different auditoriums. This is a great place to see in New York City with your car rental.
The building is named after Andrew Carnegie, who paid for its construction. Carnegie enjoyed the New York Symphony Orchestra, and he wanted a venue for them to play. In 1960, the building was almost demolished when the New York Philharmonic moved to the Lincoln Center. The building was supposed to be destroyed, but many people fought to save the building. The City of New York bought the building and renovated it in the 1980s, and a new building has been added next door with offices and commercial space.
The Main Hall is known as the Stern Auditorium seats 2804 people on five levels. This is an enormous auditorium, with some of the greatest performers of classical music playing here. It opened in 1891, showcasing soloists, conductors, and ensembles. "It has been said that the hall itself is an instrument," said the late Isaac Stern, for whom the auditorium was named for. "It takes what you do and makes it larger than life
There are also two smaller halls, the Zankel Hall, which seats 599 people, and the Weil Recital Hall, which seats 268 people. The Zankel Hall just recently reopened in 2003 after being converted into a cinema in 1959. In addition to these halls, there is the Rose Museum and the Carnegie Hall Archives in the offices located in the building next door.
You dont have to see a concert to see Carnegie Hall. Tours are available when you are in town with a New York car rental. You can learn about the history of Carnegie Hall and the great artists who have performed here. Tours are given Monday through Friday at 11:30 a.m., 2:00 p.m., and 3:00 p.m. Tours last about an hour. Parking is available at Carnegie Hall for your New York car rental.
Public transportation is available nearby, as well as parking garages for your New York car rental. The Entrance to the Stern Auditorium is off the main lobby. To get to the Weill Recital Hall, take the entrance at 154 West 57th Street. To get to the Zankel Hall, the entrance is located on Seventh Avenue between 56th and 57th Street.
Architecture
When driving by Carnegie Hall in your New York car rental, the architecture will stand out. It was one of the last large buildings in the city to be built entirely of masonry, without a steel frame. Additions in the 20th century have added steel frames around those areas however. The exterior has a Roman look to it, with terracotta and brownstone details. Inside the foyer, there is Baroque-style decor. There is a vaulted ceiling, with arched openings and Corinthian pilasters that support an unbroken cornice. The interior is done in white and gold, a fabulous sight. This is a great place to see for American architecture with your New York car rental.
The Brooklyn Botanic Gardens has come to represent the very best in urban gardening and horticulture, display hundreds of beautiful flowers every season of the year! Located just minutes from the downtown Brooklyn area and neighboring midtown Manhattan, the Brooklyn Botanic Gardens is one of the citys most stunning attractions, showcasing a picturesque landscape of blossoming blooms and beautiful berries! Designed to provide travelers wit ha unique yea-round tourist attractions, the Brooklyn Botanic Garden features a stunning variety of both indoor and outdoor horticultural exhibits, as well as season art shows and reoccurring festivals. The Gardens also hosts numerous restaurants/banquet facilities, providing AAMCAR Car Rentals New York wedding planners with plenty of first-class ceremony and reception space. Green-thumbs of all shapes and sizes are sure to appreciate this natural New York oasis, so dont forget to drop by during your upcoming Big Apple vacation! Admission to the Gardens is just $5 for adults and $3 for seniors and students, so why wait enjoy a breath of fresh air today inside the Brooklyn Botanic Gardens!
Visitor Services
The Brooklyn Botanic Gardens is proud to provide travelers with an array of first-class visitor services, all of which are intended to provide AAMCAR Car Rentals New York City clients with expert advice and outstanding performance. Services at the Botanic Gardens currently include the Terrace Caf, free weekend tours, a charming Garden Gift Shop, a state-of-the-art Gardeners Resource Center and a volunteer operated Visitors Center. Guests at the garden are encouraged to take advantage of these stellar services, as each showcases a different section of natural beauty and splendor. The Brooklyn Botanic Gardens are also entirely wheelchair accessible, as are most of the onsite facilities. Visitors in need of wheelchair assistance can find complimentary chairs at the front desk at 1000 Washington Avenue. A $20 deposit or drivers license is required.
Guidelines at the Garden
If youre planning on visiting the Brooklyn Botanic Gardens during your upcoming AAMCAR Car Rentals New York City vacation please remember to abide by the following rules and guidelines:
No outside food or beverage is permitted within the garden exceptions include bottled water and baby bottles. Picnicking is strictly prohibited within the garden and all food purchased at the Terrace Caf must be eaten in the designated Caf areas.
Picking flowers within the garden is strictly prohibited, as is sitting on any area beside the Cherry Esplanade Lawn and designated garden benches. Blankets and lawn chairs will not be allowed inside the garden.
The Brooklyn Botanic Gardens is a non-smoking facility please refrain from smoking on any of the garden complex grounds.
Tripods and easels are not permitted in numerous sections of the gardens including the Conservatory, the Japanese Gardens, flower beds or on any outdoor path. Commercial photography is allowed, but only through prior arrangements.
Weddings and Catered Events
The Brooklyn Botanic Gardens is one of New York Citys most famous natural settings, providing AAMCAR Car Rentals New York City customers with a stunning event venue all year-round! Whether youre planning a small celebration for friends or an over-the-top wedding jubilee, the Brooklyn Botanic Gardens have just the spot for you and your guests! The Brooklyn Botanic Garden currently features a wide variety of romantic and pastoral settings, providing couples with a spectacular arrangement of trees, flowers and shrubbery. Popular spots within the Garden include the Japanese Hill-and-Pond Garden, the Cranford Rose Garden, and the Osborne Garden. Full-service catering is also available inside the garden thanks to the Charles, Sally & Charles contemporary American cuisines. For more information on wedding ceremonies at the Brooklyn Botanic Gardens please feel free to contact the Registration Offices at 1-718-623-7220.
To learn more about the Brooklyn Botanic Garden simply dial 1-718-623-7200. More information can also be found on the establishments official website at www.bbg.org.
If youre longing for a little green space during your New York discount car rental trip downtown, be sure to stop by lower Manhattan and visit Battery Park! Situated at the southern tip of Manhattan Island, Battery Park is a great place to reconnect with nature, so be sure to stop by! Inside the parks boundaries youll find loads of greenery and great monuments, along with breathtaking views of the New York City Harbor and the Statue of Liberty. Built initially as a defense post during the war of 1812, Battery Park is now an area beloved by all, providing the perfect place for an afternoon picnic! Whether youre interested in history, or just looking for a place to relax, Battery Park is the ideal spot for an afternoon outside!
About Battery Park
Battery Park is unlike any other New York City green space because of where and how it came to be. If you were to drive past the park today in your New York discount car rental you will notice that the skyscrapers of Manhattan abruptly end where the park begins; this is because the land on which Battery Park is built wasnt always there! You see, Battery Park is an addition to Manhattan Island, created back in the 19th century atop a gigantic landfill site created after the war of 1812. Home to a historic Fort, Battery Park was salvaged and turned into a beautiful public space, perfect for tourists and locals alike! Measuring in at just over 21 acres, Battery Park is named for the artillery which was stationed there during war times.
Attractions Inside the Park
Inside Battery Park youll find a variety of wonderful statues and gardens even a castle! The Castle Clinton National Monument is a circular sandstone fort designed by John McComb Jr. and Jonathan Williams. Constructed between 1808 and 1811 out in New York Harbor, Clinton Castle was built as a complementary defense mechanism to the already existing Fort Williams. As Battery Park began to expand after the war, thanks to subsequent landfill action, Castle Clinton was connected to mainland Manhattan and preserved as a national monument. Originally named Castle Garden, the fort has been used for a variety of non-military purposes, including public entertainment and as an Emigrant Landing Depot in 1855. Castle Clinton was even the site of the New York City Aquarium until 1941! Today the fort is completely rehabilitated and protected as landmark museum facility.
The Gardens of Remembrance
If youre planning on visiting Battery Park in your upcoming New York discount car rental, AAMCAR strong encourages you to check out The Gardens of Remembrance. These gardens, which were in construction on September 11, 2001 are entitled The Gardens of Remembrance not as a memorial, but as a tribute to the survivors of the tragic New York terrorist attacks. Designed by Dutch horticulturalist Piet Oudolf, The Gardens of Remembrance is just the first phase in an extensive landscaping plan for Battery Park. The Gardens of Remembrance features and international walkway along New York Harbor which includes the flags of 82 nations nations whose citizens were lost during the attacks of September 11th.
Events in Battery Park
If youre looking for something to do during your New York discount car rental trip to lower Manhattan, look no further than Battery Park! Battery Park is home to a variety of events throughout the year including free concerts and exciting festivals! Battery Park is proud to be the largest public assembly area in the downtown Manhattan area, providing plenty of space for local events and activities, so remember to stop by! If youre interested in holding an event at Battery Park, be sure to request a permit from the City of New York Department of Parks and Recreation.
Battery Park is at the Southern tip of Manhattan with beautiful views of the Harbor, the Statue of Liberty, and Ellis Island. Parking is available near the park for your New York car rental, or take public transportation. This is one of New Yorks oldest open public spaces, with 23 acres of waterfront land. In the summer, there are beautiful promenades and other activities, such as open-air concerts. Also, many other famous New York landmarks are within walking distance. They include the New York Stock Exchange, the Smithsonian Museum of the American Indian, and the Staten Island Ferry. You can drive your New York car rental down for the day and explore this section of New York City.
A New World
The land where Battery Park now stands is where the Hudson and East Rivers meet. Dutch settlers landed here in 1623 and built a battery of cannon to defend the new city, which they called New Amsterdam. Fortifications were built over the years, until the War of 1812, when Castle Clinton was built. After tensions between Canada and the U.S. calmed down, Castle Clinton was renamed Castle Garden and made into a cultural center. By the mid-1800s, Castle Garden became the first immigrant receiving center before Ellis Island was established. At the end of that century, the Castle was turned into the New York Aquarium, one of the first in the country. Come down with your New York car rental and experience this part of early American history.
The Gardens of Remembrance
Battery Park has extensive gardens on the property. The Upper Promenades gardens are now called the Gardens of Remembrance as a tribute to the survivors of September 11, as well as a place of solace and renewal. There are 109 varieties of hybrid perennials and native plants through all four seasons.
Monuments and Memorials to See
Netherlands Memorial this memorial was dedicated by the people of the Netherlands to commemorate their history at Battery Park.
Fort George Memorial this memorial marks the spot of the southwest bastion. It has disappeared and been rediscovered twice since 1817.
New York Korean War Veterans Memorial this memorial is dedicated to the veterans of the Korean War.
There are many more memorials dedicated to important events in New York Citys history. Be sure to visit them when you come down with your New York car rental.
Recent Findings
Come see Battery Park and the history of early New York with your New York car rental. On December 8, 2005, workers found a 200-year-old stone wall where they were beginning to work on a new subway station. "This wall most likely is a portion of the gun batteries that once protected the city in the late 17th and 18th centuries and gave rise to the modern park name," said Robert Tierney, chairman of the Landmarks Preservation Commission.
Come down to Battery Park for a relaxing day and to experience part of New Yorks history with your New York car rental.
As you walk down the aisles of the department store, you realize that you didnt need to buy anything. You have been looking at the clothing, furniture, beauty products and bedding and suddenly, your arms are full of items. All you wanted to do was come into the store and have a look around because youve heard all of this hype about it. Now you are going home with piles and piles of things that you feel you just cant do without. Arent you glad you came into the Bergdorf Goodman department store? Thats right Manhattan car rental customers, come into this retail wonderland and you will not be disappointed. Founded in 1899 by an immigrant who came from Alsace, this department store with many luxurious supplies is located in Midtown, Manhattan. Herman Bergdorf decided to open a tailoring store above Union Station when he came to America. Someone who worked at Bergdorfs bought the store from him and decided to move it to Fifth Avenue. This someones name was Edwin Goodman and the Bergdorf Goodman enterprise began from there. For a great shopping experience and amazing gift ideas for family and friends, Bergdorf Goodmans is the place to check out on your future Manhattan car rental vacation.
Everything has its ups and downs
You may be interested to know, Manhattan car rental customers, that Bergdorfs hasnt always been the huge success it is today. During the 1960s and 1970s, the store was in a bit of a hole and things were not going well for the sales. Dawn Mello was hired as the vice president of fashion and soon, things began to look up. She became president in 1984 because of all her hard work and her great ideas. There have been lots of changes in the store over the years. The womens store has been expanded 3 times and the mens store even moved across the street to give each section more room. The penthouse in the apartment was turned into a salon and spa and Goodmans Caf was soon opened. The caf offered lunch and afternoon tea to busy and exhausted shoppers. In 2002, the store had a huge renovation, introducing new stores and restoring the older ones. Come to the Bergdorf Goodman department store Manhattan car rental customers and enjoy what has been made out of the history that began.
Its a perfect fit!
After the big renovation in 2002, Bergdorf Goodmans opened many new boutiques to increase the competition with Saks Fifth Avenue, Lord and Taylor and Barneys (their rivals). Gucci, Armani, Yves Saint Laurent and Chanel were introduced into the scene. If you have ever wanted to shop like a movie star or be that gorgeous model you saw on television, these are the stores to look at. There are shops for women and men as well as home decorating stores and beauty stores. Bergdorfs has some of the biggest name brands available for people who love to shop. You can find great shoes and handbags, as well as many other accessories to go along with a new outfit. You can get hats, scarves and gloves for those cold winter months or a pair of sunglasses for when you are relaxing in the sunshine. If you like to wind down with music or by reading, Bergdorfs has some great books and CDs that may be of interest to you. Bergdorf Goodmans is open Monday-Friday from 10:00am-8:00pm. It is also open on Saturdays from 10:00am-7:00pm and Sundays from noon-6:00pm. You can find everything you need and more at Bergdorfs on your upcoming Manhattan car rental vacation.
Founded as the first welcome visitor program of its kind in the Unites States, the Big Apple Greeter service is currently one of New York Citys most prosperous tourist programs, providing out-of-town travelers with fun and friendly city-wide guidance. Devised by Founder and Executive Director Lynn Brooks as a safe and exciting way to see the NYC sights, the Big Apple Greeter program is now in its 14th year of operation, employing nearly 350 volunteer tour guides from a wide variety of New York City neighborhoods. Since opening their doors in 1992 the Big Apple Greeters have welcomed nearly 62,000 visitors to New York City, including travelers from all 50 states and 124 countries. An outstanding service for first time NYC vacationers and international travelers, the Big Apple Greeter program currently conducts tours in 22 different languages including French, Japanese, Chinese, Spanish and English.
AAMCAR Car Rentals New York City highly encourages visitors to take part in the Big Apple Greeter Program especially if theyre feeling a little overwhelmed by the citys never-ending list of tourist attractions and important landmarks! Guides at Big Apple Greeters are trained to provide travelers with tons of helpful commentary, covering many of the citys stellar monuments with fluent efficiency and outstanding energy. Big Apple Greeters is proud to be NYCs number one not-for-profit travel organization providing travelers with a plethora of behind the scenes information and local commentary. A wonderful experience for AAMCAR Car Rental New York City travelers of all backgrounds, the Big Apple Greeters program proudly welcomes visitors without regards to race, color, creed, gender, age, sexual orientation, marital status and/or disability, so please feel free to partake in the service during your upcoming NYC vacation! Seeing the city sights through the eyes of an authentic New York City resident is the perfect way to become acquainted with your surroundings, so why waste your vacation wandering the city aimlessly? Call the Big Apple Greeters today to request your personal Big Apple Greeter tour guide!
What to Expect
The Big Apple Greeter program is one of NYCs most unique tourist programs, providing travelers with access to a wealth of unadvertised knowledge and outstanding hospitality. Designed to enhance most any Big City vacation, the Big Apple Greeter program will:
Answer all your questions about local neighborhoods, inner-city anxieties and popular tourist attractions
Recommend a variety of little-known attractions, as well as popular tourist locations, to help travelers further enrich their New York City vacation
Provide two to four hours of non-stop New York City excitement, leading groups of 1-6 travelers through various communities and lesser-known locations
Explain the citys complex public transit system, further encouraging AAMCAAR Car Rental New York City travelers to get out and explore during their upcoming NYC getaway!
Things to Know Before You Go
Requesting a Big Apple Greeter of your very own is easy, but it is important to keep a few things in mind before planning your trip. Therefore it is important to remember that:
Big Apple Greeters are volunteer friends not professional tour guides
Big Apple Greeters provide travelers with visits. This means that there are no pre-set itinerary programs or themed tours, providing travelers with more creative control during their NYC vacation
Interested participants can only request 1 (one) greeter during their stay in New York City
Applications for greeters must be submitted at least 3 to 4 weeks before arriving in the Big Apple
Travelers wishing to participate in the program must be staying at least 2 nights in one of the five NYC boroughs tours cannot be arranged fr day-of-arrival or day-of-departure.
If you would like to learn more about this exciting New York City service before reserving your upcoming AAMCAR Car Rentals New York City rent-a-car please feel free to contact the Big Apple Greeters via telephone at 1-212-669-8159. Interested AAMCAR Car Rental New York City clients can also visit the official Big Apple Greeters webpage at www.bigapplegreeter.org. Big Apple Greeter is a proud partner of the NYC & Company, the Metropolitan Transportation Authority and the Make A Wish Foundation of Metro New York, Inc., and is also associated with The Global Greeter Network.