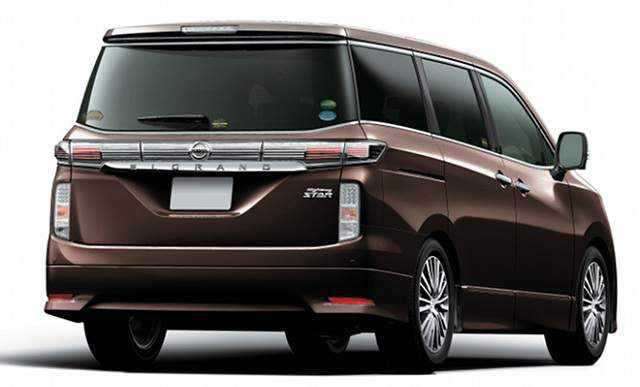 Looking for some extra room during your trip to New York City? Always popular mini-van New York rental cars are available at AAMCAR Discount Car Rental, and are perfect for all types of cargo. Mini-vans have plenty of advantages, including increased visibility and comfortable seating. Currently AAMCAR Discount Car Rental offers the Nissan Quest as its sole New York minivan rental. Read on to learn some interesting specifications on this vehicle, (model specifications shown may not correspond with available models) along with some advantages associated with the ever fashionable mini-van New York rental car.
The Nissan Quest
The Nissan Quest has long been a dependable and stylish vehicle. With a seating capacity of seven, the Nissan Quest is big enough to fit all kinds of travel plans. The interior of the Quest is roomy and comfortably, and comes complete with a removable full folding rear bench seats. Tastefully designed with cloth faced seats, headliner and carpeted floor covering, the Nissan Quest New York rental car is more than just a mini-van. The interior is also accented with chrome pieces (depending on the model).
The engine of the 2017 Nissan Quest is a 3.3 liter, 199.9 cubic inch V-6. The SOHC 12 valve transverse engine comes to life with a turn of the key in the electronic ignition. The engine block is made of cast iron with aluminum engine heads and runs on unleaded fluid. The Nissan Quest New York rental car is a front wheel drive vehicle with a 3.79 axle ration and stainless steal exhaust. The transmission is a 4 speed electronic with overdrive that also includes a handy transmission lock up. The power-assist rack and pinion steering is speed-sensing assisted allowing for increased control and safety. The suspension is a combination of front struts and rear leafs keeping the ride smooth and solid. A spare tire is also included on the underbody of the Quest. All in all the Nissan Quest is a powerfully clean machine. AAMCAR's Nissan Quest New York rental cars are full of cool options so make sure to inquire!
Minivans are a great rental options for those of you traveling with children, a group of friends or even sports teams. With plenty of seating available minivans offers plenty of leg, shoulder and head room, ensuring the comfort of all occupants. The added bonus of dual side sliding doors allows for easy access loading. The rear hatch adds to the ease of loading the rear cargo area and with removable rear bench seats there's no limit to amount of luggage you can store! The added bonus of increased visibility is a huge advantage in the minivan. Since the cockpit sits up higher than most compact and mid sized sedans the driver has the ability to see better and respond quicker in the case of an accident. Minivans have also been proven safer than many mid sized and compact cars in crash test ratings. Therefore if you're planning n traveling with young children during your next trip to New York City be sure to check out the minivan rental. With comfortable seating for seven, AAMCAR is proud to offer the Nissan Quest as their New York rental car minivan option.
Be sure to stay tuned to AAMCAR's website at www.aamcar.com for new additions to their rental car fleet. For more information concerning the Nissan Quest feel free to call AAMCAR's hotline at 1-800-722-6923, or to make a reservation visit AAMCAR's online Rental Center.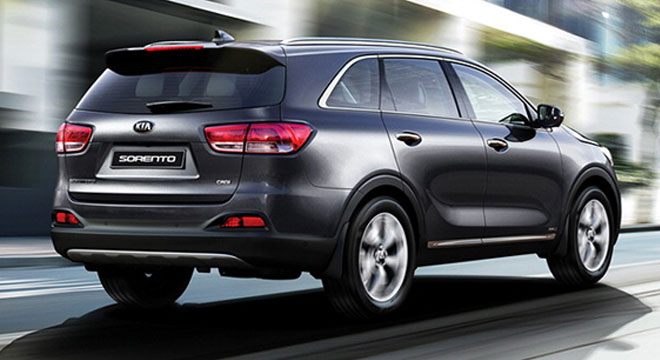 Is a mini-van just not big enough for your skip trip or vacation? Do you need 7 seats, that beats a Mini-Van and yet drive in comfort and style? Then AAMCAR Discount Car Rental has the New York rental car for you! The Ford Explorer, Kia Sorento (or similar) 7 passenger SUV
FORD EXPLORER 7 SEATS FEATURES
The 2013 Ford Explorer is a 7-passenger SUV that gives you tons of seating, incredible comfort and a roomy interior that your passengers will love on those long trips. The third-row seating in the Ford Explorer can fold down flat at the touch of a button to give you even more cargo space when you need it. This feature comes in very handy when you have your hands full and need to make some extra room. The cargo space doesn't stop there; the second-row seats can also fold down to a 60/40 split-fold-flat bench if you ever need more cargo area for carrying bigger things. When you fold down both rows of seating in the new 2013 Ford Explorer you get an enormous cargo area of 80.7 cubic feet of space. And don't forget the safety technologies which is built in.
KIA SORENTO 7 SEATS FEATURES
Sporty and with a look of real quality, this is a crossover SUV that makes road driving fun. It's a viable option when taken off the road, too. It has a very appealing design with seven seating for a family and their stuff.
Are you in need of a little extra room during your next trip to New York City? Then you should look into a van rental from AAMCAR Discount Car Rental! Vans are a great idea when traveling with children, sports teams or extended family. AAMCAR offers a wide variety of vans including mini-vans, cargo vans and 15-passenger vans that are perfect for carrying all your travel mates and their luggage. Listed below is a short summary of some of the main features of these New York rental cars so be sure to take a look! For more information on AAMCAR's van fleet feel free to browse the remainder of the site!
Mini Van
Mini-vans are the perfect New York City car rental when you're traveling with children, family or a few close friends. AAMCAR is proud to offer the Nissan Quest as its mini-van rental of choice; it can fit up to seven people comfortably and offers plenty of room in the back hatch for luggage. Plus the last row of seating folds down to create even more room for storing cargo. This New York rental car comes complete with cup holders, a 150-watt stereo CD system and a 3.5 liter V-6 engine. The Nissan Quest is also engineered with safety in mind, featuring curtain airbags along the side that are designed to cushion all three rows of seating in the case of an accident.
Looking for something a little more modern than the minivan? Why not check out AAMCAR's SUV rentals? These New York rental cars offer plenty of room for luggage and travelers, but are often considered to be more stylish than the average minivan. For more details browse the SUV Rental page at AAMCAR Discount Rentals.
15 Passenger Van
Traveling with a large group? You'll want to look into AAMCAR's 15 passenger van rental; the Ford Econline. This large passenger van has five doors for easy loading and is perfect for sports teams, and musical groups. Complete with air conditioning and new mirror designs, the Ford Econoline is a great New York City rental car option.
Cargo Van
AAMCAR is also proud to offer its customers the Ford Econoline Cargo van, which is perfect for moving, or if you're planning on having a little retail therapy in New York's shopping district! This extended van offers an air conditioning system designed to keep the driver and passenger comfortable during the transportation of their cargo. The five door setup allows for easy loading and security, while the bucket seats in the front offer complete comfort. This van has plenty of room for gear and is perfect for moving awkward items like kitchen tables and couches.
Vans are a great alternative for traveling in New York as they allow for increased visibility. Scared to rent a van because you're uneasy about the size? Don't worry, vans are very simple to drive and will only take a few short trips to get used to. Still not convinced? AAMCAR also offers a selection of midsize, compact and full size vehicles along with SUVs, so you'll be sure to find a vehicle that fits into your comfort level. Visit our vehicles pagefor more information on AAMCAR's New York rental car fleet.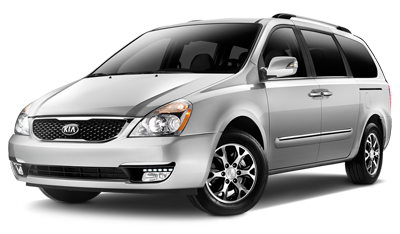 Kia Sedona or similar
Mini Vans at a Mini PRICE! With options galore, and room to spare, you will arrive with your group in comfort and style.
The minivans are mostly Kia Sedona.  They are seat belted for 7 or 8 passengers. The minivan has 17-inch alloy wheels, dual manual sliding doors, manual front seats with a driver height adjustment, Slide-n-Stow forward-collapsing second-row seats, a split-folding third-row seat, stain-resistant fabric upholstery, dual gloveboxes, air-conditioning with rear controls, a tilt-and-telescoping steering wheel, cruise control, Bluetooth phone and audio connectivity and a four-speaker sound system with a CD player, satellite radio, a USB port and a media player interface.  It is the ultimate family rental vehicle in NYC for trips, excursions and adventures.