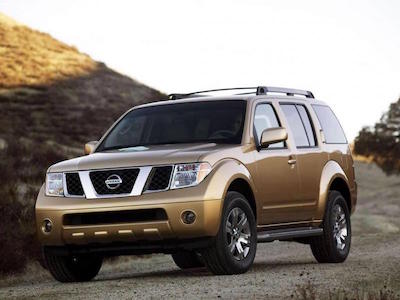 This is contemporary SUV is quick and powerful, radiating a subtle air of class and prestige. The Nissan Pathfinder drives like a car, boasting easy steering and great handling – two characteristics that are hard to come by in the modern SUV. Recent upgrades to the Pathfinder have also helped to give this sporty vehicle more power and pizzazz, creating a lot of attention in the automotive world. AAMCAR Discount Car Rental loves the Nissan Pathfinder because it offers a spacious interior, while at the same time maintaining the high level of comfort customers come to expect from Nissan New York car rentals. The Nissan Pathfinder New York car rental at AAMCAR offers full-sized comfort, at a less than full-sized price, so don't miss out on your opportunity to drive this exciting rental vehicle!
The Nissan Pathfinder has undergone a variety of changes since the turn of the millennium including extensive exterior and interior redesigns. By 2002 the Nissan Pathfinder was totally reborn with a new grille, better seats, 16 inch wheels and shiny titanium accents. This burly vehicle was available in both two wheel and four wheel drive, while all models included a powerful 3.5 liter, 250 horsepower V6 engine, perfect for tackling all types of traffic! The new exterior styling of the Nissan Pathfinder took on an evolutionary feel as more efficient features were added to enhance the Nissan's driving experience. The most notable feature on the Nissan Pathfinder's exterior is that of the square-faced front end. This accentuated detail adds to this New York car rentals tough image, while still maintaining a composed appearance.
Inside the Nissan Pathfinder you'll be pleasantly surprised by the immense space and luxurious comfort. Many modern amenities also dot the dashboard, making the interior of the SUV feel like a marvel of modern engineering. But don't worry; every knob and switch is in easy reach of the driver's seat, resulting in a natural and comfortable driving atmosphere. The signature Nissan black on white instrument panel is bright an easy to read while the one touch control for the power windows and sunroof is a greatly appreciated addition.
Driving the Nissan Pathfinder proves to be a great experience, thanks to the responsive sport handling and quick throttle response. As mentioned earlier, driving the Nissan Pathfinder SUV is much like driving a car, especially in the area of acceleration. Manual transmission models of the Nissan Pathfinder New York car rental are capable of doing a vary fast 0 to 60 miles per hour in 7.6 seconds – that's faster than a lot of modern sedans! The Nissan Pathfinder is also equipped for some serious off-roading adventures, so don't be afraid to stray from the concrete jungle habitat of NYC! The Pathfinder is built for rugged terrain, thanks to high ground clearance and comfy suspension, so go ahead and take the road less traveled!
The brand new 2017 Nissan Pathfinder is a true work of art thanks to a stronger drivetrain, 4×4 technology and a massive V8 engine. The New Nissan is also designed on a truck frame to increase the interior volume and give the truck a whole new look. Exterior accents on this new SUV make it a force to be reckoned with, especially the newly designed grille. Interior upgrades have also been added to the new Pathfinder resulting in 4 new trim levels and plenty of space! Whether you're traveling with friends, or planning on making some new ones will in the Big Apple, the new 2017 Pathfinder has plenty of available seating room!
If you would like more information on model availability for the Nissan Pathfinder New York car rental please feel free to contact the friendly staff at AAMCAR Discount Car Rental.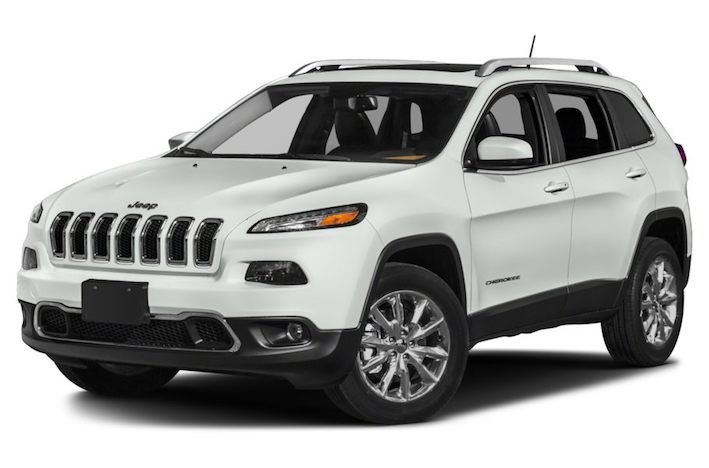 When the Jeep Cherokee first hit the road in the early 1980s it was designed like other full-size sport utility vehicles – big and clunky. All of this was about to change though! In 1984 the Jeep Cherokee was credited as the first modern SUV, thanks to a new unibody construction that combined station wagon characteristics with a little pickup truck frame. Since then the Jeep Cherokee has attracted a major fan base around the world as a totally functional sport utility vehicle. This customer demand has kept the Jeep Cherokee in production well past its expected due date, finally ending production in 2001. The popular Jeep Grand Cherokee started-up where this solid, inexpensive SUV left off, continuing the legacy of the Jeep SUV. AMMCAR is excited to offer this New York car rental to visitors planning a vacation to the Big Apple area. Whether you're in need of some extra cargo space, or extra passenger room the original SUV Jeep Cherokee New York car rental is the perfect vehicle for you!
The final generation of the Jeep Cherokee began in 1997 and was completed in 2001. A powerful V6 engine was added to the Jeep Cherokee in '01, which sported a top notch low-emissions government certification. The Jeep Cherokee is a tough little SUV complete with the Jeep staple four-wheel drive. This SUV is designed with a higher rigidity than most other vehicles, thanks to a lighter body weight and wonderful handling.
The Jeep Cherokee is coined as the first SUV vehicle to combine four door versatility with the automotive comfort of a mid-size sedan. This SUV New York car rental is a no-nonsense vehicle that provides practical styling with an economical design. Although the interior isn't as luxurious as some of the more modern SUV, the Jeep Cherokee is still a remarkably comfortable vehicle. The seats in the Jeep Cherokee are snug and offer plenty of support, while features like air conditioning and a powerful sound system help add to the Jeep driving experience.
The off-roading capabilities of the Jeep Cherokee New York car rental are phenomenal. Thanks to its light curb weight the Jeep Cherokee is in a class all its own; this surprisingly agile SUV New York car rental is an absolute pleasure to drive in Big Apple traffic because it can quickly and nimbly dodge in and out of traffic jams, avoiding pothole craters like a pro! Plus if you ever feel the need to take a walk on the wide side, this sporty SUV can take to the trails like no other vehicle out there. All Jeep vehicles are built tough, and the Cherokee New York car rental is no exception; the combination of ground clearance and a short wheelbase make the Cherokee at home in almost any type of terrain. The Selec-Trac four wheel drive system available on some Jeep Cherokee models helps to enhance driving in undesirable situations like snow or rain, resulting in increased driver control.
Although this vehicle isn't as flashy as more modern SUVs, the Jeep Cherokee New York car rental can still get the job done quickly and efficiently. The exterior design of the vehicle is rustic and tough, thanks to great body lines and a sturdy box facade. The classic front grille of the Cherokee reminds you that you're driving a Jeep, while the roof rack is ready and waiting for all sorts of outdoor gear! The Jeep Cherokee is also well equipped with plenty of cargo space, perfect for packing picnics or storing shopping bags! There's also enough passenger space in this SUV rental to chauffeur friends and family all over the wonderful state of New York without cramping anyone's style. If you would like more information on the Jeep Cherokee New York car rental, please feel free to contact the AAMCAR Discount Car Rental offices.