If you're looking for an ultra dependable cargo van, look no further than the Ford Econoline cargo van New York car rental from AAMCAR Discount Car Rental. This highly versatile vehicle is perfect for moving all kinds of items, from big, heavy refrigerators to small, delicate boxes. Trusting a moving company with your valuable possessions isn't always a good idea, so why not take control of the situation and use AAMCAR's Ford Econoline van rental for your next big moving job! Whether you helping take the kids to college, or moving to a new house in the city, the Ford Econoline New York car rental is great at transporting all of your stuff! AAMCAR Discount Car Rental is proud to offer the trusted Ford Econoline as one of their full-sized cargo van rentals so make sure to check it out!The Ford Econoline cargo van is one of the most trusted delivery vans in the commercial world thanks to its quality build, long lasting durability, spacious cargo bay and wonderful design. When Ford introduced the frame-on-body design used in the Econoline and Clubwagon line of vehicles there was nothing else like it on the market. This revolutionary technology helped to create a sturdy and rigid chassis, perfect for hauling heavy loads. Special paneling and insulation helps keep the interior of the Ford Econoline cargo van quiet and free of vibration, ensuring that your cargo stay safe and sound in the rear.
The Ford Econoline cargo van New York car rental is more than just your average moving van. Inside this vehicle you'll find comfy seats with plenty of built in support, dual airbags to keep you and your passenger safe in the unlikely case of an accident, a convenient and functional wrap-around instrument panel that helps keep your driving distraction free, and a great air conditioning system to keep you and your cargo nice and cool.
The cargo area of the Ford Econoline New York car rental is set-up with your moving needs in mind. The five door design makes loading and removing heavy objects a snap fro mthe Ford Econoline, while the payload capacity of approximately 276 cubic feet allows you to stow all sorts of awkward and heavy cargo. The powerful engine in the Ford Econoline helps this full-sized vehicle keep up with traffic, while at the same time the overhead cam design helps to increase the fuel economy and reduce excess engine disturbance.
The Ford Econoline extended van New York car rental is equipped with all sorts of helpful features to make your moving experience easy and hassle free. The look of the Ford Econoline has gone through a variety of changes including a larger grille, environmental controls and much more. Over the years the Econoline extended cargo van has become a sought after leader in fields like utilities and animal controls. This spacious van is perfect for transporting all types of cargo, even the fragile stuff. The interior of most Econoline models are equipped with a plus carpet to keep your valuables safe from unsightly nicks and dings during the moving process.
If you would like more information on the Ford Econoline New York car rental, please feel free to contact AAMCAR Discount Car Rental. Models and availability may differ from those stated here, so please call AAMCAR's toll free number at 1-800-722-6923. The Econoline New York Car Rental is the perfect moving van for any job, so don't miss out on your chance to save money by becoming your own mover! Renting your own moving van is a great way to cut expenses and keep a close eye on your valuables so take charge during your next move!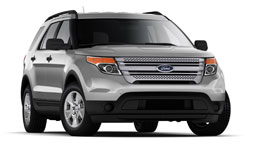 7 passenger SUV
Seats 7.Drive in comfort and style. 4 Wheel drive and space to spare.
Beats a Mini-Van on Ski Trips or just a Vacation.
7 passenger capacity
The Ford Explorer is a 7 passenger vehicle/SUV with a large amount of trunk space.  The cabin is roomier than many SUV's, but it is also considerably more stylish and of higher quality. The vehicle is equipped with all of Ford's latest technological advancements, including Sync, MyFord Touch and MyKey. In terms of its safety improvements, the Explorer added inflatable second-row seatbelt airbags.  It also includes a built in GPS, CD player, AM/FM radio and has great fuel efficiency.  The vehicle has four-wheel drive making it an excellent choice for renting during the fall and winter in NYC or when planning a ski trip to upstate NY.