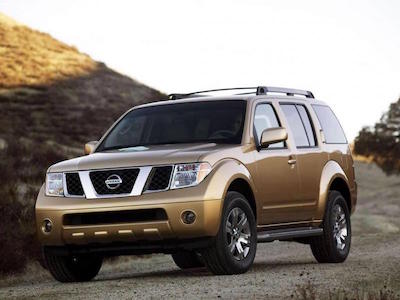 This is contemporary SUV is quick and powerful, radiating a subtle air of class and prestige. The Nissan Pathfinder drives like a car, boasting easy steering and great handling – two characteristics that are hard to come by in the modern SUV. Recent upgrades to the Pathfinder have also helped to give this sporty vehicle more power and pizzazz, creating a lot of attention in the automotive world. AAMCAR Discount Car Rental loves the Nissan Pathfinder because it offers a spacious interior, while at the same time maintaining the high level of comfort customers come to expect from Nissan New York car rentals. The Nissan Pathfinder New York car rental at AAMCAR offers full-sized comfort, at a less than full-sized price, so don't miss out on your opportunity to drive this exciting rental vehicle!
The Nissan Pathfinder has undergone a variety of changes since the turn of the millennium including extensive exterior and interior redesigns. By 2002 the Nissan Pathfinder was totally reborn with a new grille, better seats, 16 inch wheels and shiny titanium accents. This burly vehicle was available in both two wheel and four wheel drive, while all models included a powerful 3.5 liter, 250 horsepower V6 engine, perfect for tackling all types of traffic! The new exterior styling of the Nissan Pathfinder took on an evolutionary feel as more efficient features were added to enhance the Nissan's driving experience. The most notable feature on the Nissan Pathfinder's exterior is that of the square-faced front end. This accentuated detail adds to this New York car rentals tough image, while still maintaining a composed appearance.
Inside the Nissan Pathfinder you'll be pleasantly surprised by the immense space and luxurious comfort. Many modern amenities also dot the dashboard, making the interior of the SUV feel like a marvel of modern engineering. But don't worry; every knob and switch is in easy reach of the driver's seat, resulting in a natural and comfortable driving atmosphere. The signature Nissan black on white instrument panel is bright an easy to read while the one touch control for the power windows and sunroof is a greatly appreciated addition.
Driving the Nissan Pathfinder proves to be a great experience, thanks to the responsive sport handling and quick throttle response. As mentioned earlier, driving the Nissan Pathfinder SUV is much like driving a car, especially in the area of acceleration. Manual transmission models of the Nissan Pathfinder New York car rental are capable of doing a vary fast 0 to 60 miles per hour in 7.6 seconds – that's faster than a lot of modern sedans! The Nissan Pathfinder is also equipped for some serious off-roading adventures, so don't be afraid to stray from the concrete jungle habitat of NYC! The Pathfinder is built for rugged terrain, thanks to high ground clearance and comfy suspension, so go ahead and take the road less traveled!
The brand new 2017 Nissan Pathfinder is a true work of art thanks to a stronger drivetrain, 4×4 technology and a massive V8 engine. The New Nissan is also designed on a truck frame to increase the interior volume and give the truck a whole new look. Exterior accents on this new SUV make it a force to be reckoned with, especially the newly designed grille. Interior upgrades have also been added to the new Pathfinder resulting in 4 new trim levels and plenty of space! Whether you're traveling with friends, or planning on making some new ones will in the Big Apple, the new 2017 Pathfinder has plenty of available seating room!
If you would like more information on model availability for the Nissan Pathfinder New York car rental please feel free to contact the friendly staff at AAMCAR Discount Car Rental.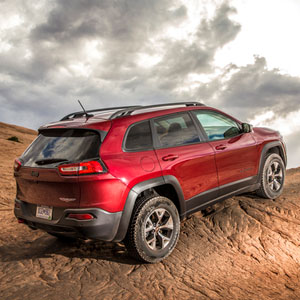 Planning a trip to New York City but worried that a rental car won't be big enough for you and your travel mates? Why not look into an SUV rental? SUVs offer plenty of space, (both for cargo and travellers) but are a more stylish alternative to trucks and mini-vans.
Advantages of Driving an SUV
SUV New York car rentals are known for providing safety to its occupants during accidents because of their weight and height. Although it has been rumoured that larger SUV's pose a threat to smaller vehicles, this was discarded in a June 1998 survey by the National Highway Traffic Safety Administration. The survey stated that SUV's perform the same as a full-sized car in the case of a collision and that they do not overpower smaller vehicles. Even though this test proved that SUVs were safe, companies took an extra initiative to build even better vehicles. European companies have begun to develop new technology that utilizes an electronic stability control system. This system involves sensors what would detect when your SUV New York car rental begins to lose traction and would automatically apply brakes to the appropriate wheel. These systems have been proven to help prevent vehicles from tipping or skidding when pared with safe driving techniques.
Sine SUV's are larger than most normal sized vehicles they are built heavier than other vehicles, which will work to your benefit in the case of an accident. Plus SUVs are better equipped for cargo and are great for off-roading adventures. Many companies like Toyota, Lexus and Ford are now beginning to come out with the "Cross-Over" vehicle: a vehicle that mixes both the features of an SUV with that of a full-sized car to create an even safer, more fuel efficient ride. These "Cross-Overs" have unit body construction and are easier to manage than the bigger, bulkier SUVs.
As of right now AAMCAR Discount Rentals is offering the Jeep Cherokee and the Nissan Pathfinder as their SUV New York car rentals, but be sure to check the site regularly, as the fleet is always growing! Below you'll find a little information on some of the features of the Cherokee and Pathfinder New York car rentals; if you're interested feel free to book it for your next trip to New York at www.aamcar.com!
The Jeep Cherokee
The Jeep Cherokee is a great alternative to a mini-van if you're planning on taking the kids on your next trip to New York City. The Jeep Cherokee was the first modern compact sport utility vehicle introduced to the market back in 1984 and has been one of the top SUVs ever since! The Cherokee New York car rental holds up to five people and serves well as a basic, economically priced SUV rental car. It has the convenience of a 4 wheel drive system, perfect for those slipper winter roads, while the spare tire is stored conveniently inside the rear cargo space.
The Nissan Pathfinder
The Nissan Pathfinder New York car rental is a roomy, comfortable and capable SUV. It can carry and outstanding amount of cargo, plus 5 passengers without feeling squished. The powerful engine emits little to no road noise and the suspension provides a smooth and comfortable ride. This SUV drives more like a car than a truck on pavement, but has the capability to go off-roading on some extremely messy roads! It's powerful, quick, while at the same time it feels surprisingly light and agile, with a speedy throttle response.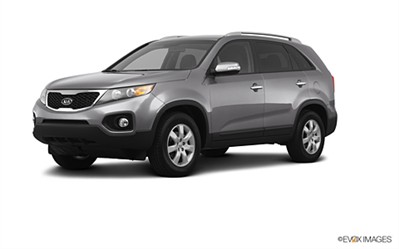 Kia Sorento, Jeep Cherokee or similar
Ever drive a Jeep Grand Cherokee? GMC Envoy? Power to overcome even the worse weather while the ride slides you to your destination. If you don't own one, rent one for the fun of it.
Available Dynamax™ Intelligent All-Wheel Drive (AWD) offers fully automatic torque distribution
The 4 door, 5 seat SUV provides a more comfortable way of traveling than a standard car.  The SUV has All-Wheel Drive and has the ability to fold down seats for storage or luggage. The five-passenger features include 17-inch alloy wheels, air-conditioning, full power accessories, 40/20/40 split-folding rear seats, a tilt-and-telescoping steering wheel, Bluetooth and a six-speaker sound system with a CD player, and USB/auxiliary audio jacks.  It is equipped with All Season Tires and it is a great rental when traveling outside of NYC.